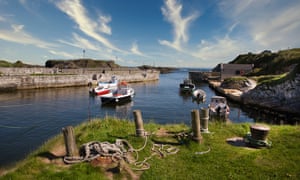 It's been almost two years since I've been back to Northern Ireland. I've now not lived there for longer than I did – and yet, it is, and will always be, the place I'm referring to when I say "back home".
The last time I was there, I remember loitering around the airport waiting for my dad and feeling strangely comforted by the fact that people from Northern Ireland dress for the weather we want or are about to experience, and not necessarily the weather we have. It was mid-May and 12C, and everyone around me was in shorts and flip-flops, buoyed by the prospect of warmer days to come.
I'm hoping that this summer I can go back home. I miss my nieces and nephews, the background hum of BBC Radio Ulster, toasted soda farls, and everyone greeting me with: "Och hello, what about ye?" When I do go back I have a reverse bucket list of sorts, a sitting-in-my-roots list. In the two years I haven't been home I've moved abroad, moved back to London, fallen in love, had my heart broken, and changed jobs twice. I'm ready for familiarity, so the Giant's Causeway and the Causeway coast will be my first stops when I do go back.
Folklore tells us that Finn McCool, an Irish warrior, built the Giant's Causeway so he could cross the Irish sea to Scotland without getting his feet wet. The hexagonal columns spill down to the sea and make for a breezy walk no matter the season. On an ideal day, I'd leave the Causeway having had all my cobwebs blown away and walk to The Nook, a little pub housed in a Victorian schoolhouse. Open fires, Guinness and a hearty pie are like a soul hug after a walk on the beach – and, if I'm lucky, I might even get to spot some seals.
Farther along the coast there's Ballintoy Harbour. I've spent a few sunsets walking along the pier, past lobster traps haphazardly stacked against the stones, listening to the lullaby of gentle waves lapping the rocks. As much as I love the street lights and sirens of east London, the quiet of the Northern Irish countryside can right many wrongs, and when I'm there, I feel complete.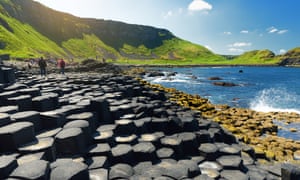 Ballycastle is just beyond Ballintoy and is home to one of my favourite beaches and a brilliant little bakery. Ursa Minor Bakehouse smells of warm sourdough and strong coffee. The ubiquitous local traybake, fifteen, can be found in biscuit tins and bakeries, on saucers and side plates, at wakes and weddings, in my granny's kitchen and the airport Starbucks. A fifteen and an afternoon coffee are what I start to look forward to on the train to Stansted.
Watched over by Samson and Goliath – the bright yellow Harland & Wolff cranes that rise over the skyline from Queen's Island – Belfast is forever on my list of places to go when I'm home. Getting the Ulsterbus through the gorse-lined countryside roads to the big city was something I was rarely allowed to do as a teenager, and I still feel a slight thrill when I make that same journey in my late 30s. The Cathedral Quarter is a food lover's haven, established for a morning coffee or a lazy brunch. Tucked down a back street, the Michelin-starred Muddlers Club has a tasting menu that presents simple, local produce like it's art; and The Cocktail Bar at the Merchant Hotel makes the best brandy sours.
Hiking the lush green countryside provokes a strong sense of returning to my roots. The Fermanagh lakelands with their roaming waterways and cloistered islands, the Mourne Mountains and their many walks and ways that slowly spill down to the sea. Mussenden Temple keeps watch over the waves rolling on to the beach below, while Downhill Demesne houses walled gardens and family secrets. Slieve Gullion forest park, with its ring of hills sheltering the Mountain of Mystery, is where I want to trek over the summer and stomp out my recent heartache.
Northern Ireland hasn't technically been my home for more than 20 years, but two years without a visit has felt heavy on the heart – I've missed family, honeysuckle-lined hedges, and hearing "Sure, welcome back home!" from everyone I see. I'm counting down to hugs, cups of tea and being told "I'll have a wee bit of cake", in between countryside walks, beach runs and city sours.
Although you can't visit just yet, get inspired and plan ahead at ireland.com/en-gb/destinations/experiences/northern-ireland