Make the trip for …
Britain's smallest city (population 1,350) has history and heritage in spades, and is close to the beaches of the Pembrokeshire Coast national park. It is also home to the country's first contemporary art hotel. Twr y Felin, a windmill built in 1806, is now a hotel/gallery. The owner commissioned more than 100 artworks representing Pembrokeshire and St Davids when the hotel opened in 2015, and a further 70 for an extension in 2021.
Sinister portraits of Welsh stars such as Tom Jones and Shirley Bassey by street artist Pure Evil eyeball diners in the restaurant; spray-painted landscapes by Mr Jago enliven the gallery-like lounge; and depictions of drunken antics, inspired by Dylan Thomas and painted by Cherry Pickles, spur on drinkers in the bar.
Now what?
Oriel Y Parc, St Davids' eco-friendly gallery and visitor centre, is a stone's throw from the hotel and has exhibits about local nature, geology and archaeology. The gallery often shows works by Graham Sutherland, who was inspired by the Pembrokeshire landscape, and holds temporary exhibitions by visiting artists in its tower. The Riverside cultural centre in Haverfordwest, 16 miles from St Davids, also displays works by Sutherland, plus other Welsh artists including Gwen and Augustus John.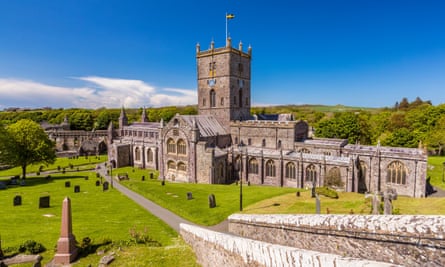 St Davids has been a place of pilgrimage since 1120, and its magnificent cathedral, with its carved oak nave ceiling and many chapels, is still an unmissable sight. Next door is the Bishop's Palace, which once rivalled the cathedral for glory, and is now a picturesque ruin (£4.80/£3.40).
Souvenir shopping
Several venues in St Davids sell work by local artists, including New Street Gallery, Goat Street Gallery and Albion Gallery. Some fishing villages also have thriving art scenes, including Solva and Porthgain, which is home to the family-run Harbour Lights Gallery, the 18th-century Sloop Inn and a fish and chip bistro, the Shed.
When to go
Events are held at the cathedral year-round, while in August, there are open-air shows in the grounds of the Bishop's Palace. The Festival Arts Theatre Company has been performing everything from family shows to Shakespeare since 1969.
Get outside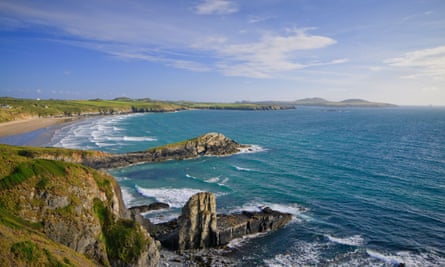 The 186-mile Pembrokeshire Coastal Path comes within a mile of the city. The St Davids and Solva Art Group suggests spots along the path to sketch, including Porthclais harbour, St Justinian's lifeboat station, views of Ramsey Island and St David's Head.
Drinks and dinner
There are a couple of fantastic pubs in the city: the Farmers and the Bishops. The Farmers has an open fire in winter, a patio with an outside bar and cathedral views, plus live music most weekends. The Bishops is more food-focused, with Welsh dishes such as faggots, lamb cawl and rarebit, and local lobster, crab and mackerel. St Davids Gin and Kitchen specialises in "Welsh tapas", steaks and seafood platters. Twr y Felin's restaurant, Blas, serves afternoon tea (2pm-4.30pm), with a free art tour on request. Its fine-dining evening menu showcases ingredients from the countryside and coast, such as olive oil-poached cod with jerusalem artichoke, smoked eel and chicken sauce (£26).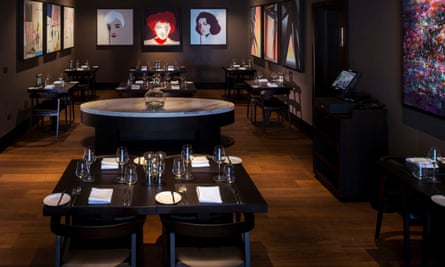 Stay
Twr y Felin has 41 en suite rooms, all with original artworks (doubles from £97.50 B&B, plus a free dinner when staying two nights, until 31 March). Its Tyddewi suite occupies three floors of the original windmill tower and has panoramic views of Skomer, Grassholm and Ramsey islands, St Brides Bay and the Preseli hills. St Davids Escapes has a range of cosy holiday cottages in St Davids, Solva and Porthgain. Caerfai Bay Caravan and Tent Park is a family-run campsite 300 metres from the beach and less than a mile from the city centre (pitches from £18 a night for two).
Getting there
The area is served by Haverfordwest railway station, with trains from Milford Haven, Cardiff and Manchester. There are connecting buses to St Davids.