The huge bulk of Bass Rock sits pretty in the Firth of Forth, three miles offshore from the idyllic town of North Berwick, on the east coast of Scotland. When viewed from the mainland, the island has the appearance of an enormous stone scone with a mighty bite taken out of one side. A dusting of flour seems to cover the landmass and sprinkle the skies above.
But as our boat bobs gently over to the island, those sprinkles come into focus and we see the stunning sight that has brought us here: the largest colony of gannets in the world.
"In a normal year, Bass Rock would support 75,000 breeding pairs – so 150,000 birds," says Susan Davies, chief executive of the Scottish Seabird Centre. "It's of global significance."
The birds are packed tightly together on the rugged rock. They circle above the craggy cliffs, searching for cod or herring. When they spot one, the birds torpedo down from heights of 30 metres, tucking their wings behind them and entering the water at 60mph.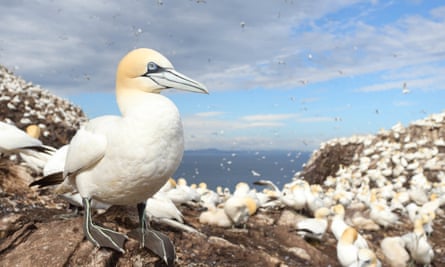 About 10% of the world's gannets live on Bass Rock, and while it is well known, few people, even in Edinburgh (30 minutes from North Berwick), realise its importance. Perhaps that will change after it features in Wild Isles, the new David Attenborough-narrated series aiming to remind us of the global significance of the (albeit severely depleted) nature in the British Isles.
"We are custodians to more than 50% of the world's common bluebells and 85% of the world's chalk streams," says series producer Hilary Jeffkins. "But despite this, we are still one of least biodiverse countries in the world. So it's important to protect and restore the wildlife we have."
On Friday, the Guardian was told that the BBC has decided not to broadcast one episode of the series due to fears its themes of the destruction of nature would risk a backlash from Tory politicians and the rightwing press. The row erupted just two days before the first episode of the highly anticipated series was due to be broadcast on BBC One.
Here are some of the spectacular species and settings that will be shown in the first episode on Sunday.
Gannets, Bass Rock, Firth of Forth
During the height of summer, there are two gannet nests to every square metre on Bass Rock – though experts are unsure how many will return in 2023 after last year's avian flu outbreak. "Gannets are the largest seabirds we have [in Britain]," says Davies. "They have a wingspan over two metres. It's spectacular when they fold back their wings and dive". The Scottish Seabird Centre runs boat trips from North Berwick to the rock, which is also home to a 19th-century lighthouse and a ruined castle which once held Jacobite prisoners.
Puffins, Farne Islands, Northumberland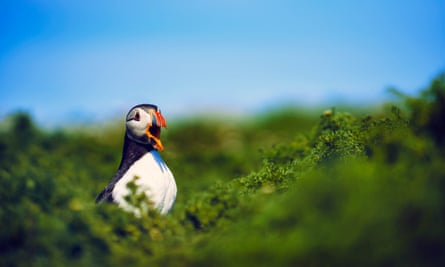 The sea stacks of the Farne Islands are home to up to 55,000 pairs of puffins, easy to identify during breeding season by their brightly coloured beaks and matching feet. The best time to visit is from April to late July, while seal pups can be seen from October to mid-December.
In Wild Isles we watch puffins battle with greedy gulls trying to steal their hard-earned sand eels. It has becoming increasingly difficult for puffins to catch these tiny eels because a combination of overfishing and the climate crisis is driving eels farther north. The segment is followed by a clip of Attenborough up close with the puffins on Skomer Island, a mile off the Pembrokeshire coast, which is also a great site for spotting puffins, Manx shearwaters and more.
Orcas, Shetland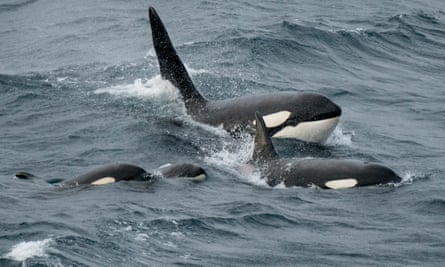 Wild Isles opens with a stunning sequence of crashing waves around the island of Muckle Flugga, one of the most northerly points in the British Isles. The lighthouse shown was actually designed by Robert Louis Stevenson's father and uncle, Thomas and David Stevenson, in 1854.
In episode one, the orca are captured communicating then sneaking up in silence on an unsuspecting seal. The killer whales arrive in Shetland reliably each spring to feed, but naturally, you can't guarantee a sighting. The crew of Wild Isles filmed this sequence over three years, with 250 local people helping them track orca along the coastline.
"This is the world's apex marine predator breeding in our waters," says producer and director Nicholas Gates. "There is not a more powerful or more feared creature in the oceans."
Ancient oaks, Oxfordshire
Attenborough's narration highlights that only 13% of Britain as a whole is covered by trees, one of the lowest proportions in Europe – but England does have more ancient oak trees than the rest of Europe combined. Three-quarters of those ancient oaks are more than 500 years old, with the oldest being a 1050-year-old tree in the grounds of Blenheim Palace in Oxfordshire.
White-tailed eagles, Islay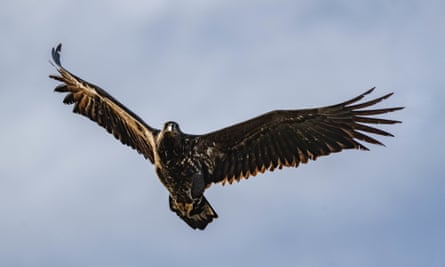 The standout sequence from Wild Isles shows two white-tailed eagles, a species reintroduced to Scotland as recently as the 1980s, hunting a barnacle goose in mid-air. These geese travel to Islay, off the west coast of Scotland, each summer to munch on the grass.
"This behaviour is very, very new," says Gates. "We've got this species back and now we're seeing these lost behaviours coming back, too. That's a conservation success story."
The white-tailed eagles were filmed at RSPB Loch Gruinart on Islay, though the island of Mull, farther north, is better known for white-tailed eagles. There is a regular ferry from Kennacraig to Islay, where there are also world-class whisky distilleries including Lagavulin and Laphroaig.
Kingfishers: Rivers Stour, Avon and Frome
Attenborough describes Britain's crystal-clear chalks streams as "one of the rarest habitats on Earth". There are about 200 in the world, most of which run through southern England. Beneath the surface live various breeds of salmon and trout, plus minnows, the favoured snack of the kingfisher. These electric blue and orange birds fly fast, at up to 25mph, over the surface of the rivers. Their long beaks – a third of their body length – allow kingfishers to enter the water silently, without alerting prey – a design borrowed to silence the Japanese bullet train. The Rivers Stour, Avon and Frome feature in Wild Isles, but kingfishers are widespread in Britain.