Wingfoiling
Wingfoiling is basically windsurfing with a hydrofoil: grabbing a two-handed wing and riding a paddleboard elevated about 90cm above the water. It takes some practice, which explains why Balistra beach represents a savvy place to learn. For, on this undeveloped white-sand wonder between Bonifacio and Porto-Vecchio – its rutted, 1.2 mile access track thankfully precluding crowds – novice lessons begin on a large, calm lagoon. You then progress to the sea, and can rent equipment when ready to fly solo.
90-minute lessons cost from €60 (£50) nustrale-ride.com
Kiteboarding
In essence, strap yourself to a big power kite, jump on a surfboard and whoosh … off you go! But a little tuition can go a long way, so beginners are best heading for Corsica Kiteboarding, a long established school, which chooses scenic spots based on daily conditions – sometimes Plage de Piantarella, below an excavated Roman villa; sometimes the idyllic Lavezzi islands. Whatever the location, private, beach-based lessons, plus kit hire, are available. If you're an experienced kiteboarder, head for the bay by Bonifacio's ancient clifftop citadel, where strong winds create the perfect conditions.
90-minute lessons cost from €150 (£130) corsica-kiteboarding.com
E-biking
The GT20 is a 370 mile Corsican cycling route that zigzags south. It's now possible to effortlessly ride its northern – and arguably most picturesque – parts on an electric bike. From Bastia, you'll see crumbling Genoese watchtowers and France's first lobster-fishing port along the slow-paced Cap Corse peninsula before pausing at vineyards, crossing the Agriates desert and ascending to La Balagne's cutest hill towns. Great for parents and kids, the six-night itinerary finishes in Calvi, a beachside city that claims to be Christopher Columbus's real birthplace.
From €853 (£735) – self-guided, including transport, luggage transfers and B&B gt20-corsica.com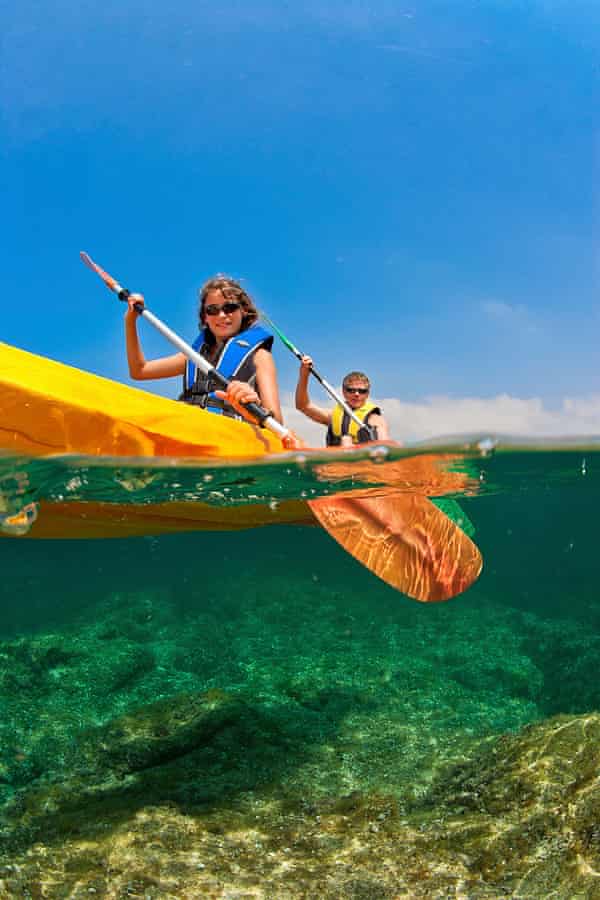 Aerial hiking
Imagine a rock climbing and hiking hybrid – if that sounds like your kind of thing, head for Calvi, the starting point for half-day adventures on Corsica's most family-friendly Via Cordata course. After a short transfer, you'll climb cliffs rising from the Mediterranean as waves crash and seagulls squawk. It's enough to get your adrenaline going, but safe for anyone aged 10 or over. Want more of a challenge? A wilder alternative near Ajaccio involves scaling the 70-metre Bridal Veil waterfall before abseiling and ziplining down. Multi-level via-ferrata options – using iron bars and steps – also proliferate across the island.
From €35 (£30), including equipment hire canyoningbalagne.fr
Desert hiking
That GT20 cycling route follows the Agriates desert's lone road. North of that, you'll find tracts of scrubby rock, sweetly scented by the maquis shrub, and then a wild coast path. Connecting a series of sugar-white shores – some deserted – the 25 mile Sentier du Littoral links Ostriconi beach with Saint-Florent. Three-day itineraries are advised, camping overnight on Ghignu and Saleccia's sensational beaches. Carry water aplenty; sultry and shadeless, the Agriates is genuinely a desert.
Straw huts cost €15 (£12) at Ghignu agriate.org; tents from €6 (£5) at Saleccia camping-uparadisu.com
Canyoning
Gorges galore make Corsica a canyoning hotspot. Especially popular is Verghellu canyon, south of the sleepy former capital Corte and just east of an elegant, Eiffel-built railway bridge. Once your helmet and harness are assembled, half-day excursions here take in tricky rope courses, rappelling, ledge leaps into swirling waters, a long zipline and natural chutes sliding into plunge pools. You'll be guided, of course, and in groups no larger than 12. Experience isn't required, but swimming prowess certainly is.
From €55 (£47) corsica-canyoning.com
Sea kayaking
Corsica's craggy coastline makes for memorable sea kayaking outings. Most tempting is the northwestern shore: paddlers there can gawp at the Calanques de Piana – a granite forest of jagged spires and spikes that turn pink in sunlight – then look for ospreys in the Scandola Nature Reserve's waters. Unghalak runs five-night guided trips for small groups each summer – from €590 (£510); if you'd rather go it alone, hire single or double kayaks from Cors'Aventure's base outside Ajaccio, then drive to Piana.
Single-seater kayaks from €43 (£37) per day corse-aventure.com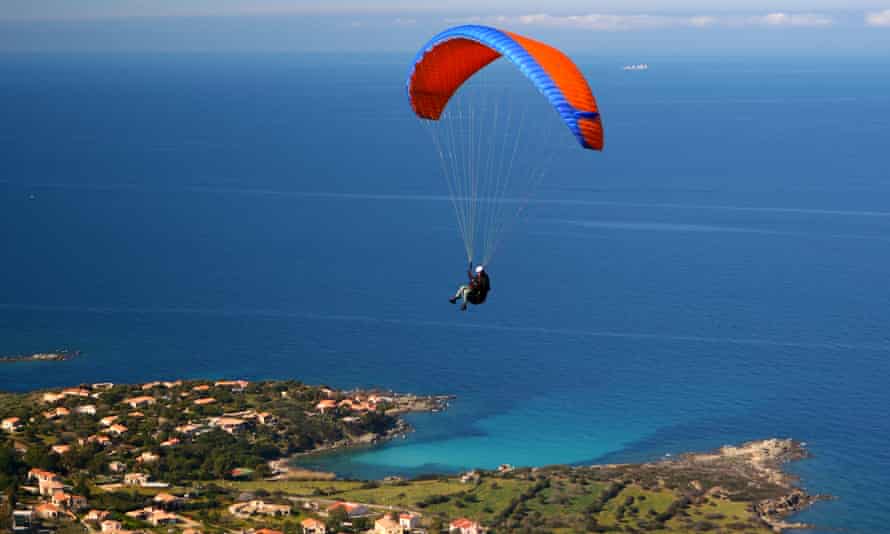 Paragliding
The Gulf of Sagone – between Ajaccio and those crimson Calanques – is one of the Mediterranean's best places to take flight. Paragliding jaunts with Corsic Adventure – towed if you prefer – start from Liscia Beach; you ascend to the San-Bastiano pass, then leap into thermal air currents, enjoying the spectacular ocean and mountain views before landing back on that same sandy fringe. Other island options include Altore's assortment of north-coast sites.
Towed paragliding from €75 (£65) corsicadventure.com
Rock climbing
Corsica's craggy interior supports five established rock climbing locations. Four are river valleys close to Corte, including the famous Restonica. Also formed of reddish granite, but extra memorable and adventurous, is the more southerly Aiguilles de Bavella. Here, as wispy needles extend dramatically from an eponymous massif, an array of rock climbing grades and pitch numbers are available.
Cédric Specia leads single-day, from €109 (£95) and six-day, from €545 (£470), Bavella trips explore-share.com
Find out more information about Corsica at visit.corsica