'Off-piste? You must be joking!" It was my first post-pandemic ski trip after a few years off the slopes, and I'm not a hugely confident skier at the best of times. I had been nervous before setting off, and unsure whether I could face the hassle of skiing holidays (the cold! the boots!) any more. Like lots of people, I'd lost my travel mojo. What was wrong with hibernating at home for the winter?
Then I arrived at Villard-de-Lans, a traditional village resort in the Vercors plateau in the Auvergne-Rhône-Alpes region of south-eastern France. The sun was shining, the pistes were quiet and a couple of easy warmup runs reminded me why I fell in love with skiing 25 years ago. Before long, I was swishing down gorgeous, tree-lined slopes backdropped by huge limestone crags. The resort connects two villages, Villard and Corrençon-en-Vercors, and is absurdly picturesque – a mix of forest runs winding between fir trees and powder fields with panoramic views of peaks and canyons. This year, a lack of snow has affected the resort – as with many places across Europe – but pistes have reopened this week.
I had signed up for group lessons and, ski legs duly found, we took the lift up to the highest point in the resort, 2,050 metres, for a glorious glimpse of Mont Blanc, then skied over to Altitude 2000, a sociable slopeside restaurant, for an alfresco lunch. Some people stayed on, drinking beer on the terrace, but I had got the bug and wanted to keep skiing.
That's when my instructor suggested heading off-piste to visit a frozen lake. Despite my trepidation, we inched our way through deep snow to a spectacular viewpoint over the ice. Really, it wasn't that hard to reach – you could probably take your skis off and walk there – but it felt like an adventure nonetheless.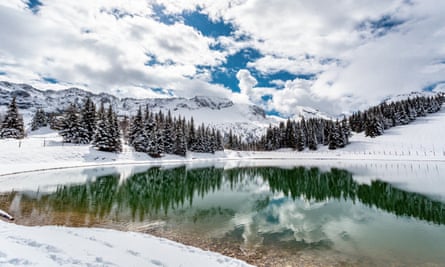 That is one of the appealing things about the Villard-Corrençon ski area: there is something to challenge all abilities. The 36 runs, spread over 78 miles (125km) and 1,000 metres of altitude, are well balanced with 12 greens, nine blues, seven reds and eight blacks (including a celebrated run named after the local Olympic gold medallist Carole Montillet), making it ideal for families or mixed-ability groups. Advanced skiers can book a guided ski-touring expedition, mixing hiking with off-piste skiing. If downhill isn't your thing, there is also 110km of cross-country trails.
It's not just about skiing, either. At Zecamp, a hotel and winter sports club, we had an introduction to biathlon shooting (cross-country skiing combined with rifle shooting). The club has an international biathlon training track where World Cup athletes practise, but anyone can sign up for a short course. Elsewhere, there is a fun sledging park on Les Bains hill, with six runs from entry-level to daredevil, and the Villard-de Lans' leisure centre has ice skating and other sports. We even visited a goat farm and dairy, Chèvrerie des Cabrioles, and sampled its goat-milk waffles.
Another attraction of Villard-de-Lans is that it is a year-round working village, not simply a ski resort. Sure, there are skiwear stores and gift shops, but there are also butchers, bakers and a host of other "proper" shops serving the 4,000-strong population. It's not a place for wild après-ski – there is definitely more of a family vibe – but locals' hangout Café de la Bascule was regularly buzzing until the early hours.
There is a good choice of restaurants in the village, most specialising in gorgeously calorific alpine dishes, such as the sinful fondue served in a hollowed-out loaf at Le Pot de Vin. But for a truly magical evening, Le Clariant in Corrençon is unmissable. The only way to reach this mountain inn is on foot: a 1.5 mile- torchlit track through the forest, under a starry sky. After half an hour of walking – and much anticipation – a fairytale inn emerged in a snowy clearing, glowing in the darkness.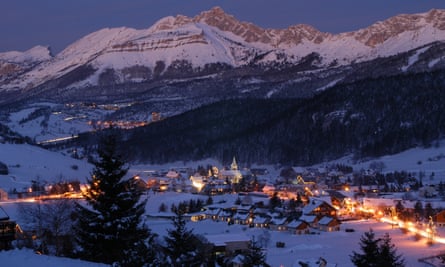 We gathered around braziers and a roaring fire on the terrace, sipping aperitifs and cooking morsels of sausage on skewers. Inside was no less welcoming, with old stone floors, beams and open fireplaces, every surface festooned with lanterns and candles. Raclette is the only dish on the menu here: as much delicious Vercors cheese as you can melt and slather over charcuterie and potatoes (€49pp all-inclusive excluding wine, €25 under-13s). After finally admitting defeat on the cheese front, we toasted marshmallows before collecting flaming torches for our starlit stroll home.
As skiing holidays go, Villard is relatively affordable. We stayed in the three-star Le Christiania, a traditional chalet-style hotel with an indoor and outdoor pool (from £825 for seven nights' B&B for two). Lift passes start at €25 a day. It is also easily reached by train from the UK – I travelled from London to Grenoble, changing in Paris (from £145 return). In Grenoble, the Musée de la Résistance et de la Déportation de l'Isère is well worth a visit – Vercors played a large part in the resistance movement during the second world war, and Villard was subsequently visited by Charles de Gaulle. From Grenoble, there is a bus to Villard (from €15.50 one-way, transaltitude.fr).
Hibernating may be tempting, but it's rewarding to take a leap back out into the world – and Villard-de-Lans provides a very soft landing.
The trip was provided by Isère Tourism