• New national restrictions apply from 5 November, please consult government advice before planning to travel
The benefits of being in nature have never been more sharply in focus than they are now, when the daily walk, cycle or run has been pivotal to lifting our mood during anxious days. Going to the mountains only amplifies that feeling, which is why the mental benefits of skiing, among other mountain activities, are becoming ever more widely appreciated.
I've been a freelance writer for 10 years, and have been all too aware how important regular ski trips are for my mental wellbeing – breaking up the monotony of long days working alone from home with just my dog for company. In the mountains, where the air is clear, the scenery mesmerising and the atmosphere jovial, I feel lighter, happier and more able to put my worries in perspective.
Research appears to be on my side. A study published in 2019 by the Department of Sport Science at the University of Innsbruck in Austria, showed that skiing and being in the mountains seems to be tremendous for both our physical and mental health. Skiers described how they experienced "pleasure, freedom, nature … and [the benefit of] social interactions". Beyond the physical benefits, exposure to the natural surroundings of the mountains during exercise appears to provide an additional boost to our psychological wellbeing and stress recovery.
In recent years, as we've realised the growing need to nurture our mental wellbeing, many of us have come to recognise that there is more to a skiing holiday than simply rushing down slopes all day and partying hard all night. Nowadays, we're more likely to stand and stare – taking time to appreciate the sheer wonder of the wintry mountains and the uplifting effect of such beauty on our mood.
When it comes to physical health, there are myriad options to help you stay fit, over and above taking to the piste. Just being at altitude will fast-track your wellbeing and resorts have worked hard on installing such facilities as walking paths as well as offering more rigorous outdoor pursuits, not least ice climbing, ice-skating, ski touring, cross-country skiing, snowshoeing, paragliding and fat-biking – there's lots on offer in Italy's Passo Tonale, for example.
Louise Johnson, from Hampshire, skis twice a year with her partner, Mark, and various friends and family. She says: "Standing at the top of the mountain, skis on, eyes fixed over a snow-capped range puts the world into perspective and it makes me realise how small humans are. In the mountains, I feel completely free. My mind forgets the daily troubles and focuses on the sound of the skis carving through fresh snow – one of the best sounds there is."
Business owner Tom Clary, a father of two, escapes to the mountains for a couple of long weekends a year and says it is the "perfect antidote to work".
"It is like a reset when you get on the slopes on the Saturday morning," he says. "It is also a complete freedom from the responsibility of being a father and business owner. I particularly value being able to reconnect with friends, away from the rush and pressures of everyday life."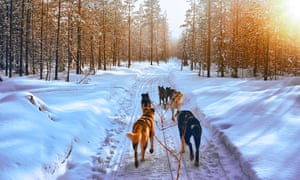 Then – as I've recently discovered after 30 years of skiing – there's the total departure from skiing to simply enjoy the benefits of being in a winter wonderland. We all relish some downtime and a chance to explore our playful side and indulge our inner child (as well as spoiling the family), which is why winter trips to Lapland have become a firm favourite in recent years. You can just soak up the ambience of snowy surrounds, blazing fires, reindeer and husky sled rides and even go ice fishing (as offered by Crystal Ski Holidays).
Mother of four Freya Woodhall sees at first-hand the mental benefits of a ski holiday for the family. The outdoor-loving Woodhalls head to the mountains in summer and in winter to walk, mountain bike, ski and spend time together – away from their smartphones.
"The greatest gift we can give our kids are happy, adventurous memories," says Freya, who met her husband, Ross, while working in the Alps.
"As a family we find the mountains make us feel alive and inspired, taking in the views and each other's company while doing a sport we all enjoy. It's good for the soul. That's why we keep going back."
Hit the slopes
Book your space on the slopes at crystalski.co.uk