It's not just the rolling hills or rugged coastline that make Scotland a haven for bikepacking, says round-the-world cyclist Markus Stitz. "It's the access rights which let you explore it all."
Bikepacking is an evolution of cycle touring which involves heading out on a multi-day ride with everything you'll need to spend the night strapped to your bike. Scotland's access rights, which turn 20 this year, make wild camping legal – and so bikepacking has boomed.
Few know Scotland's B-roads and forest tracks better than Stitz, who after becoming the first person to circumnavigate the globe on a single-speed bike in 2016 returned to his long-term home in Edinburgh to found Bikepacking Scotland. "It's all about freedom and adventure," he says.
In his new book Bikepacking Scotland, Stitz maps out 20 wild adventures. Here he chooses five of the best bikepacking routes in Scotland.
Ayrshire Alps, coast and castles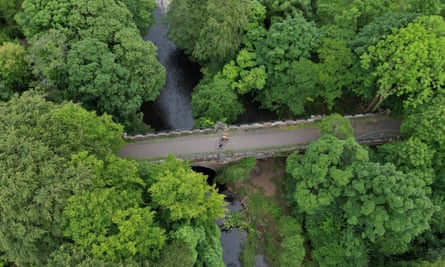 This 81.6-mile loop in the south-west of Scotland runs through the Galloway and Southern Ayrshire Unesco Biosphere. "Ayrshire is green rolling hills," says Stitz. "It's a very different landscape from some of the more remote, rugged, intimidating landscapes in Scotland."
Starting and finishing at Ayr railway station (about an hour's train ride from Glasgow), the route follows a backroad to Alloway, the birthplace of Robert Burns, then takes to the hills and moorland before returning via the west coast. There are far-reaching views out over the Atlantic, including to Ailsa Craig, a sanctuary for seabirds, and the Mull of Kintyre. The trail also passes Culzean Castle, Robert Adam's 18th-century masterpiece, which is dramatically perched on a cliff edge, and the coastal village of Dunure, featured in Outlander, before reaching Ayr.
"This route is as much about the people as the riding," he adds. "It's a very genuine place, with a lot of excellent cafes, and some parts are mind-blowingly beautiful. To extend the route, just head farther south to Galloway Forest Park for hundreds of kilometres of gravel trails."
John Muir Way bikepacking route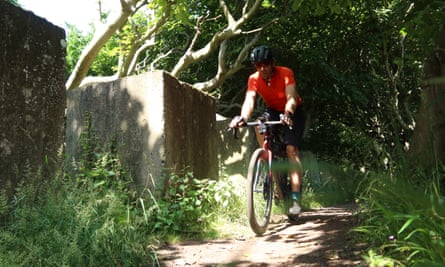 The John Muir Way runs 134 miles coast to coast across central Scotland, from Helensburgh on the west coast to Dunbar on the east. The latter is the birthplace of the eponymous John Muir, the conservationist who emigrated to America, best known as the father of national parks.
"This is a great route for people new to bikepacking," says Stitz. "It's easy to get to various parts of the route by public transport, so you can break it up into stages."
The route mixes cultural history with natural beauty from the get-go, passing Charles Rennie Mackintosh's Hill House as it leaves Helensburgh and heading up Gouk Hill, a climb to vistas over Loch Lomond and the Trossachs national park. The Campsie Fells backdrop Glengoyne distillery on a section shared with the West Highland Way, and the route passes the Falkirk Wheel, the world's only rotating boat lift, and the 19th-century Avon aqueduct before heading into central Edinburgh and along the east coast to Dunbar.
Highland Perthshire Drovers trail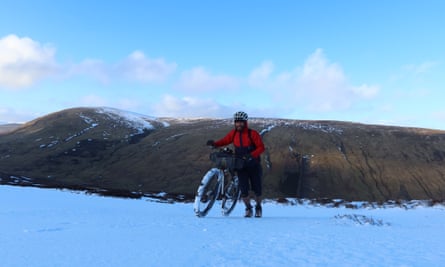 Scotland has a long history of droving – walking livestock from the Highlands to the Lowlands to sell on at market centres. "In no way was it an easy job, driving cattle over remote mountain passes, but they would have passed through some lovely places too," says Stitz. "There's a bit of that in bikepacking. If you're riding off-road, it can be tough, but you get great rewards."
This 205-mile loop from the Victorian tourist town of Pitlochry follows ancient gravel drove roads, first heading north to the Cairngorms national park then curving around to the lush valley of Glen Tilt before heading to the banks of Loch Tay and the heather moorland near Ben Chonzie.
"You go over a pass and drop down into Comrie and head over to Crieff, and you really get a sense for where the Highlands end and the Lowlands start," he adds. From Crieff, the path heads back to Pitlochry via Dunkeld and Craigvinean Forest.
The trail is also great for whisky lovers, taking in both Edradour, the smallest distillery in Scotland, and Glenturret, which has a claim to being the country's oldest.
Wild About Argyll trail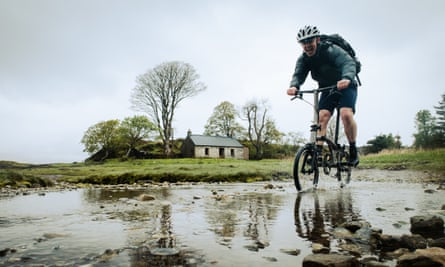 "The landscape in Argyll is so varied," says Stitz, and this 420-mile west coast epic covers a whole lot of it. "There's native woodland and temperate rainforest, and you're never far from the water. Even inland, there are waterfalls and rivers, then soon enough you're back on the coast."
This route starts in Helensburgh, then heads west to explore the picturesque Cowal and Kintyre peninsulas. Early highlights include the gravel of Argyll Forest Park and a walking section at Puck's Glen, a deep gorge. "It's a landscape you can experience with all of your senses."
A ferry from Portavadie to Tarbert allows the route to follow the Kintyre Way down to Skipness, looking across the Kilbrannan Sound to the Isle of Arran, then it's up the extreme west of the mainland, past Knapdale – site of the UK's first official beaver reintroduction – with views of Islay and Jura, up to Oban. The return to Helensburgh passes lochs Avich, Awe and Fyne.
"It's like a mini-New Zealand – without the glaciers," says Stitz. "If you have a gravel bike and you want a long adventure, this is it. Argyll is basically always green. It never looks gloomy."
Go East Lothian trail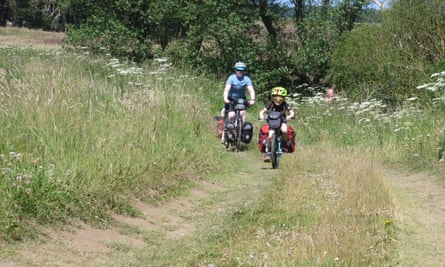 A half-hour train from Edinburgh will take you to North Berwick and the Scottish Seabird Centre, which provides the starting point for this (comparatively) short but scenic 39-mile loop.
"This route sticks out from a family point of view," says Stitz. "The trail is fairly flat. Not quite as flat as the Netherlands, but as flat as it gets in Scotland – and it's a very accessible route."
The trail has stunning views of Bass Rock, home to the world's largest northern gannet colony, not least from Drift Cafe, which is perched on a cliff edge above Canty Bay. A few minutes from the cafe sit the ruins of Tantallon Castle, while other highlights include the golden sands of Tyninghame beach, anti-tank barriers at Hedderwick Sands and the red sandstone of Dunbar.
"It's a nice mixture of seaside and countryside, and for families there are playgrounds along the way, and great places to stop and eat or explore nature locally," Stitz adds.
Markus Stitz book Bikepacking Scotland is published by Vertebrate Publishing, and is available from guardianbookshop.com