Dinner at Labirinto di Adriano, a charming traditional trattoria in the backstreets of Orvieto, comes with something of an unusual coda. After delicious plates of handmade pasta – coated in the kind of silky, cheesy sauce that only the Italians know how to do – and succulent pork cheek, our host, Alessia, suggests we might like to explore what lies beneath the restaurant. Following her downstairs, we discover an extraordinary tangle of underground passageways, caves and staircases that date back more than 2,500 years, to when the Etruscans first began to dig a network of wells, cellars and tunnels into the soft volcanic rock.
Many of Italy's hilltop towns have caverns and cellars beneath, but few can match the extraordinary honeycomb that lies under Orvieto. The old town (as opposed to the new, Orvieto Scalo, which sprawls across the valley below) is built on an isolated outcrop of tufa rock, with medieval palazzos, the 50m-high clock tower, Torre del Moro, and breathtaking 13th-century cathedral rising up like cut-outs, set above some fantastical, floating land.
I first encountered Orvieto when I came to Italy to scout for locations for my new novel, The Enemy of Love, and fell instantly for its atmospheric streets and the hidden world below. Left untouched by the war, when the German and Allied commanders agreed to stage the battle for Orvieto 30km away, much of the city looks as it would have done centuries ago – narrow alleyways flanked by thick stone walls and shuttered palazzos, restaurants, cafés and boutiques housed beneath medieval arches and in Etruscan caves.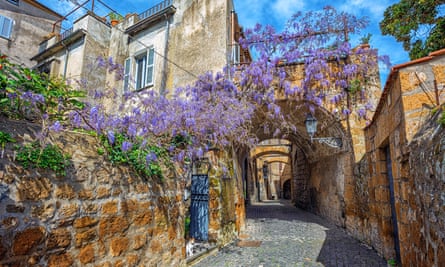 It may be steeped in history, but that's not to say Orvieto is stuck in the past. The long main street, corso Cavour, is dotted with boutiques and familiar Italian brands, slotted in between cafés, bars and trattoria that all spill out on to the streets, with waiters running neat piles of strangozzi, the local pasta, and giant discs of pizza out from the kitchen to the alfresco tables, set wherever the narrow streets allow.
Any visit to Orvieto should begin with the extraordinary, liquorice-striped cathedral, which took 300 years to build and has one of the most beautiful facades in the whole of Italy. Inside, the vast space is pleasingly free of the baroque ornateness that characterises so many Italian churches; on a hot day it's a wonderfully airy space to sit and ponder just how such a spectacular and intricate building was created over 300m above the plains. Equally worth a visit, although notably less spacious, is the Pozzo di San Patrizio, a 50m-deep well, encircled with two spiral staircases that never meet. Constructed in 1527 to ensure water was still accessible in case of siege, it's another example of the mind-blowing engineering and design that underpins the town.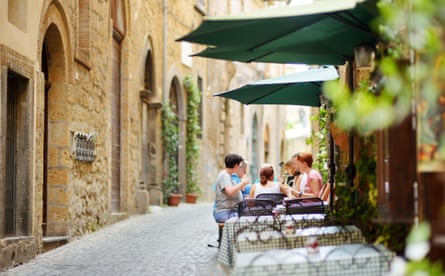 Alongside Orvieto's rich heritage, there's an indulgent foodie culture with an emphasis on truffles and wild boar, often used to make ragu. By day, the city's hub is Montanucci, a big, bustling café, where glass cabinets are heaped with biscuits, pastries, tarts and flans and the hot bar does excellent pastas served canteen style.
But it's in the early evening when Orvieto is at its best. Daytrippers have disappeared into their coaches and the streets are filled with local families, taking a pre-supper passeggiata. My favourite spot to sit and soak it all up is the Bottega Vera, a pocket-sized wine bar where every glass comes with a slate of savoury snacks, and as much information on the grape, vineyard and maker as you want to know. On hotter evenings, there's Pasqualetti, just a few doors along, for a scoop of ice-cream so meltingly rich it's almost a fondant.
One of the many joys of Orvieto is its border location, making it easy to discover the highlights of both Lazio and Umbria. A favourite trip is Lake Bolsena, where the waterfront is lined with restaurants and cafés, and it feels a little cooler even on the hottest days. There are other hilltop towns within easy reach – Montefiascone is a particular highlight, with its vast duomo and lively central piazza – and Rome is an easy 90-minute hop on the train for a day trip. But, for me, nowhere quite beats Orvieto, a truly extraordinary city, both above ground and far below it.
Where to stay
The vineyard A wonderful choice for vinophiles, Cantina Palazzone is a 15-minute drive from Orvieto, with a small hotel set in a lovingly restored medieval locanda. The seven suites and rooms are elegant, with wonderful views through the mullioned windows – best seen with a glass of the estate's excellent viognier or its spicy, punchy musco.
Doubles from £185, B&B, palazzone.com
The hotel Palazzo Piccolomini is an atmospheric medieval building that belonged to the papal Piccolomini family for five centuries. Rooms have a slightly monastic feel with original architecture and brickwork. Ideal for exploring on foot, it's also close to the town's main car park.
Doubles from £123, B&B, palazzopiccolomini.it
The villa A great option for a family get-together, La Casetta is just outside the village of Porano, with four spacious bedrooms and an airy lounge. The gardens are the big draw, with a pool, dining terrace and wonderful views across the Umbrian hills. Orvieto is a 15-minute drive, and Porano is home to a well-stocked minimarket and Da Claudio, an excellent trattoria.
A week from £2,355, sleeps nine, cvvillas.com. A week's car hire costs from £230 (noleggiare.it)
The Enemy of Love by Annabelle Thorpe (Head of Zeus, £15.99), is available at guardianbookshop.com for £14.07