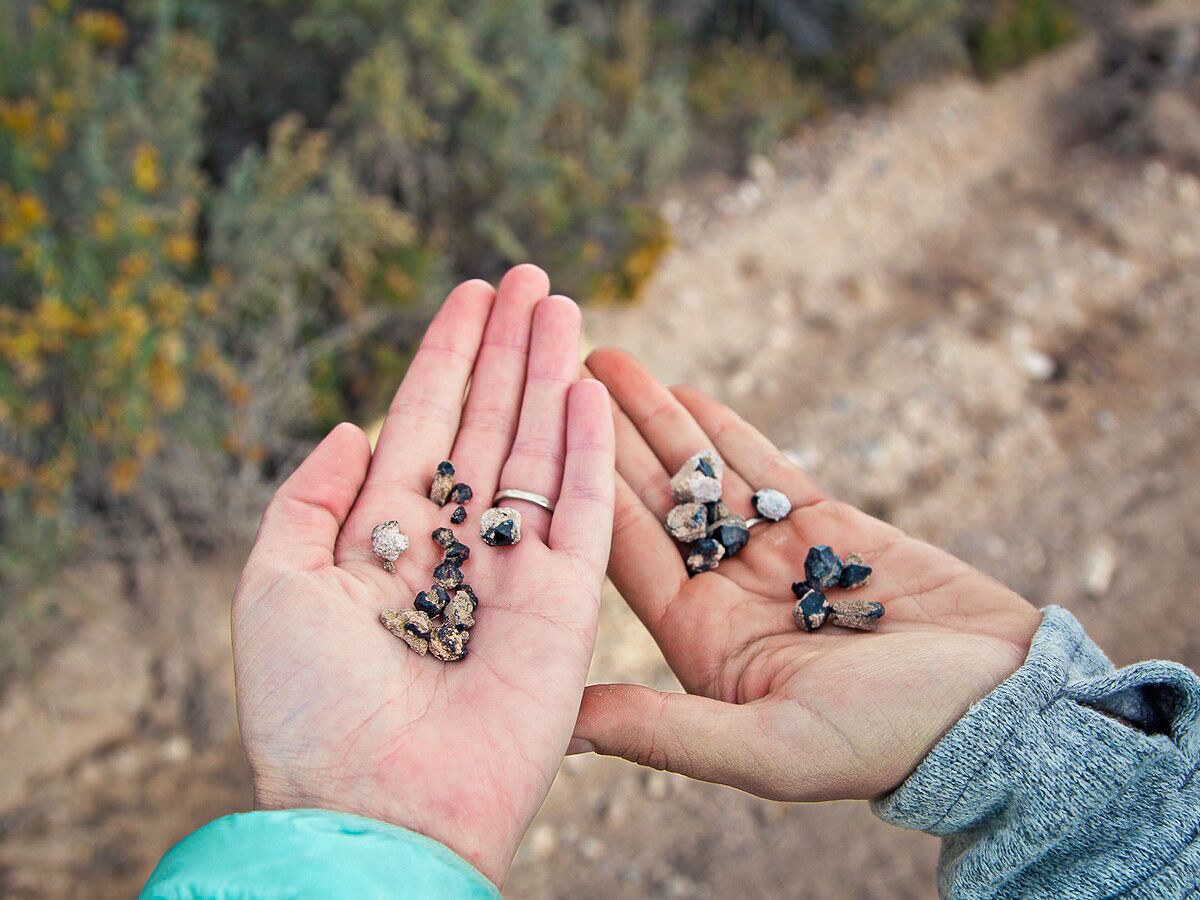 Virgin Valley (Denio, Northern Nevada). Black fire opal, a dazzling gem that contains a rainbow of colors against a dark background, is only found in a few locations in the world — and Nevada's Virgin Valley is one of them. Choose a pay-to-dig site (we recommend Rainbow Ridge, Royal Peacock, or Bonanza opal mines) for your chance to unearth one of these rare beauties.
Red Rock Canyon NCA (Las Vegas area, Southern Nevada). It's all in the name — hike the 2.5-mile Fossil Canyon/Fossil Trail loop, and you'll be walking amongst an ancient sea of sponges, shells, corals, and crinoids. While it's illegal to collect vertebrate fossils without a permit from the BLM, it's perfectly fine to seek out invertebrate fossils like these!
Black Rock Desert (Gerlach, Northwestern Nevada). The mysteries of the Black Rock Desert go well beyond Burning Man: With a 4WD vehicle, hit the eastern slopes of the South Black Rock Range, just northwest of Sulphur, to scout for geodes off old mining roads. A bit further west is the Calico Mountains Wilderness, where petrified wood deposits can be found in the aptly named Petrified Canyon. (Yep, you're clear to rockhound petrified wood, too!)
Oak Springs Trilobite Area (Caliente, Southeastern Nevada). Millions of years ago, tiny, prehistoric trilobites (picture a dime-sized horseshoe crab) were perfectly preserved in the silty sediment of the Great Basin. Today, Oak Springs Trilobite Area holds these fossils in droves, if you know how to look. You won't find many amenities here, so bring what you need for the day, but you're free to keep any specimens you find.
Garnet Hill (Ely, Eastern Nevada). Garnet Hill is a BLM recreation area, and there aren't any pay-to-dig mines here — instead, this is a free-to-take site (yep, free gems!). It's a great entry-level location because you can often find dark red spessartine garnets simply by grooming the ground. The area is also rich in volcanic rhyolite. With four picnic areas with grills, it's a great place for the entire family to spend the day.
Otteson Brothers Turquoise Mine (Tonopah, Central Nevada). If turquoise is what you're after, head to the most popular destination in the state for the gemstone: the Otteson Brothers Turquoise Mine in Tonopah. Sort through turquoise in every shade of blue-green until you find the perfect hue for you. Visitors can take home up to a bag of turquoise. Just be sure to make a reservation in advance — this spot is popular for its world-class colors. Half-day rates start at $150, while a full day will run you $300 per person.
Gemfield (Goldfield, Central Nevada). Chalcedony, agate, jasper, gold, silver — the mineral diversity of the aptly named Gemfield site is unrivaled. This one's ideal for a more experienced adventurer looking for a remote experience amidst the sagebrush steppe. You'll need a high-clearance vehicle and some wilderness know-how — there are no services (including public restrooms) in the immediate vicinity. Bring dollar bills, as it's $1 per pound whatever you take, cash only via the honor system.
Berlin-Ichthyosaur State Park (Austin, Central Nevada). Preserving the country's largest concentration of ichthyosaur (a giant fish-like dino) fossils and one ghost town, this state park is unlike any other. And while it's against the rules to rockhound in the park itself, consider it your fossil-hunting basecamp. If you're up for adventure, scope out nearby rock-cuts and old mines and see if you strike it lucky.