The forest was deep, dark, almost mystical – ancient trees, mossy tussocks, rare glimpses of blue sky through the dense canopy. The afternoon air was cool and scented, and had we not been pedalling hard, I'd have needed the jacket from my pannier. Yet just that morning we'd been kayaking off a hot, sunny beach a few miles away.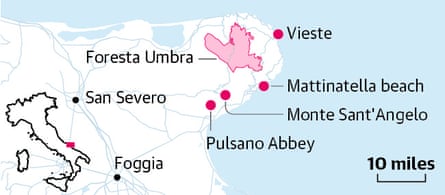 That's the beauty of the Gargano: the spur of Italy's boot offers beach and mountains in one holiday – or even in one day. The peninsula is a limestone massif, rising to 1,056-metre Monte Calvo, ringed with 85 miles of beaches, white cliffs and secret coves. Inland, where we were cycling, is the Unesco-listed Foresta Umbra, home to giant oaks, pines and beeches plus 2,000 other species of plant. Horace mentioned the oaks in one of his Odes.
To many UK holidaymakers, Puglia means flying to Bari and visiting Polignano, Ostuni, Alberobello for the trulli, and maybe the baroque city of Lecce; few head north to the Gargano. (For non-flyers, however, Foggia, on the mainline from Milan, offers bus and train links across the peninsula. And a new bus service, Gargano Easy to Reach, now links the main towns around its coast.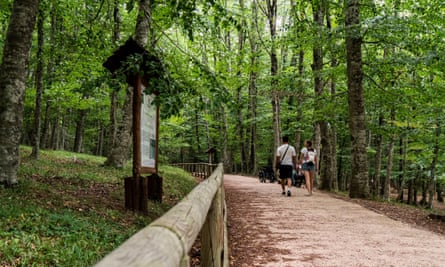 The area is well known to Italians, but they tend to flock to (very lovely) beach resorts such as Vieste and Peschici. We were seeing a different side of the Gargano with one of a cohort of thirtysomethings who are promoting lower-carbon, community-based tourism here. Michele Simone (6ft 7in in his socks, unusual for southern Italy) grew up in the area's pilgrimage mecca, Monte Sant'Angelo, and in 2017 set up Dove andiamo sul Gargano, offering sustainable stays and activities.
So instead of driving to a holiday village to lie on the beach and maybe take a motorboat trip to admire the cliffs and sea caves, Michele suggests visitors try greener activities: cycling, hiking ancient trails, kayaking and farm visits.
We'd started our day at Mattinatella, in the sheltered southern Gargano. A gorgeous beach of fine white shingle under low cliffs, it sees a fair few sunseekers in summer. But we paddled Michele's brilliant transparent canoes north round a headland and were soon in our own pristine world of clear jade sea and beaches inaccessible from the land. We sunbathed and picnicked by the mouth of a cave, swam round another headland to more coves, and kayaked among sea stacks under chalk-white cliffs banded with layers of flint.
We saw a small boat a little way out, but only non-motorised craft are allowed to put ashore here, so our seclusion was complete.
Our base was Monte Sant'Angelo, where Michele has turned several little white terraces into holiday lets. Each one-floor house is in a two-storey building, with another below it down the hill, its door on a lower street. They were built in the 1300s as lodgings for the pilgrims who flocked here for centuries before anyone had heard of "tourism".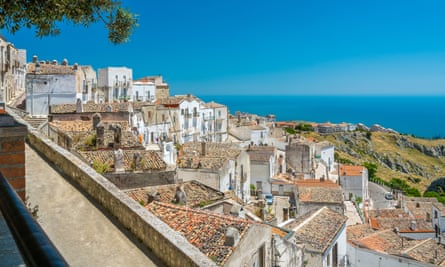 According to tradition, the archangel Michael appeared several times in a cave here in the late fifth century. A basilica was built over that grotto, and the town grew around the legend. (The faithful still come to a big Saint Michael festival in September.)
Our casetta made a comfortable billet for two, but in medieval times would have slept 10 or more. The town itself is pleasant in summer thanks to its 796-metre altitude: temperatures are 5-10C lower than on the coast, and nights cool enough to sleep without aircon. As well as the basilica, there's a ninth-century castle to visit, plus museums and hilly stone streets with far-reaching sea views. It is also sourdough central, which makes this ancient town feel quite modern. The Slow Food-registered Monte Sant'Angelo loaf weighs about 6kg (a half lasted us all holiday), and bakeries in town offer all kinds of sourdough bread, including chewy focaccia.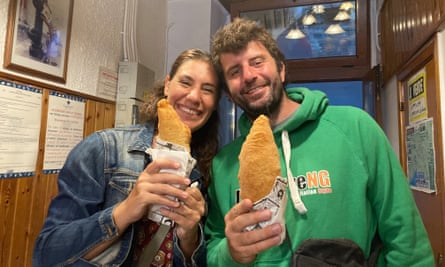 Another treat is panzerotto, deep-fried, folded pizza found from Bari northwards. The best are at takeaway Pizzeria SixtySeven in Monte, and filled with tomato, mozzarella and a little ham (€3.50) by an elderly couple who make each one fresh, so queues can be long. (A baked version is available, but lacks the crispy unctuousness, and they once did a meat-free version for a German visitor.) For dessert, a Neapolitan-run shop a few doors down sells nuvole (clouds) – small brioche shells filled with cream and ricotta and drenched in icing sugar. Not our usual diet, but days of active pursuits allowed us extra calories. Or so we told ourselves.
After cycling, we visited Sitizzo dairy farm, to see how caciocavallo cheese is made, with milk from skinny but tough podolica cows, well adapted to this rocky terrain. I now understand how Italian cheeses get that delectable chewy, stringy quality: we watched as Leonardo kneaded and stretched boiling hot curds, cooling his fingers in water now and again. One of his flask-shaped cheeses was heavy to bring home, but made an indulgent supper fried and served with honey, oregano, chilli and vinegar (recipe from Rachel Roddy).
On other days we hiked off the calories, first to sixth-century Pulsano Abbey, six miles from town, with panoramic views of the Manfredonia gulf to the south. It's a supremely peaceful spot, run by volunteers and free to enter. The monks live in silence, and visitors are asked to stay quiet. Those with a head for heights can climb down to rock-hewn hermitages in the gorge side, including one dedicated to Father Christmas himself, Saint Nicholas of Myra (who is buried in Bari).
A walk on Monte Saraceno took us into prehistory and the 3,000-year-old Daunians, who buried their dead in foetal position, ready to be born again. On this outcrop over the sea, 400 round, basin-like graves sit in the rock in a glorious spot, with sea views stretching north to the Tremiti islands.
Michele is not the only young entrepreneur pushing sustainable Gargano: he collaborates with trekking companies Gargano Natour and Gargano Wunderland. This year they have teamed up to launch Gargano Green Card, offering one-stop booking and discounts on green activities on the peninsula.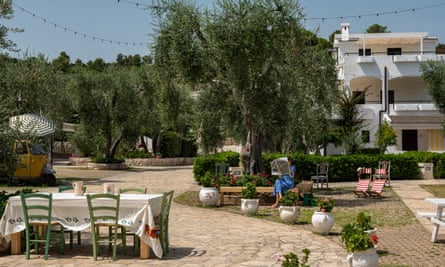 On the coast near Vieste, Michele also works with the Silvestri siblings, who have turned the family olive estate into Cala Molinella, an "eco holiday village", with stone-built apartments (from €500 a week for two) all solar-powered and furnished with reclaimed wood.
Antonella, 34, told us how food waste goes to the site's pigs, chickens, donkeys and hens, and that guests can join recycling, cooking and cheese-making sessions. They run weekly supper clubs by the (desalinated water) pool, and greengrocer, fish and bread vans call daily. The beach is a five-minute walk away, with bar and sunbeds but also plenty of "free" sand.
Nearby, Antonella's engineer brother, Matteo, has resurrected an important Gargano tradition. For centuries people here lived by fishing, but pirates and stormy seas made this perilous. The answer was a trabucco, a fishing platform anchored to the rock, with arms projecting over the water. One man's job would be to watch for shoals of fish from the end of one antenna and tell the guys on deck when to lower the huge net. Pools in the rocky coast were used to keep fish alive to sell over several days.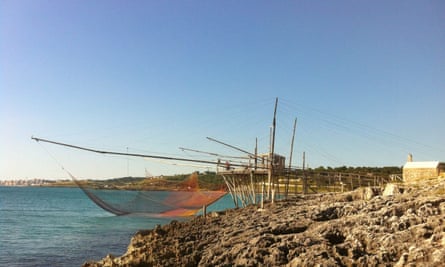 Trabucchi are now up for Unesco intangible heritage status (sponsored by the European Fisheries Fund). With help from local experts, Matteo has refurbished one from the late 19th century that was crumbling into the water, and launched it as an attraction. I watched in wonder as Natale and Giuseppe, 76 and 79, nipped about the apparatus like ships' boys on rigging. Today, fishing trips cost €10pp, and the platform makes a stunning setting for Cala Molinella's summer yoga classes.
"We've come full circle," said Matteo. "Our grandparents' ways were green – they had no other choice. Our parents opted for an easier life, but in our generation we do have a choice, so are doing things sustainably."
The trip was provided by Dove andiamo sul Gargano, which has village houses for two from €50 a night, with discounts for longer stays