Jason Leitch, Scotland's national clinical director, told Times Radio this morning that he was "not panicking, but concerned" about the discovery of three cases of the P1 Brazilian variant in Scotland.
And on the BBC's Good Morning Scotland he said the three people had all arrived in Scotland from Brazil "via quite a circuitous route", and that "there's no suggestion they had symptoms on the plane or were involved in lots of contacts.
He went on:
It's the first time we [have found] this particular Brazilian strain in Scotland, and that worries us a little bit, but people shouldn't get too concerned. [There is] no community spread, no evidence it's gone anywhere else.

And the reason why we're worried scientifically is we're not absolutely certain that this version is amenable to the natural immunity some people already have and the artificial immunity we're creating with vaccination.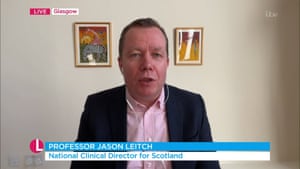 Back at her Q&A, Anneliese Dodds, the shadow chancellor, is asked if a future Labour government would push to rejoin the customs union.
Dodds says we have a deal. She says she wants financial services to have better access, provided through a memorandum of understanding [that both sides are meant to be negotiating now]. She goes on:
But would we be seeking to immediately renegotiate this deal? No, we've got to make the current deal work.
But she says she is not blasé about the problems firms are having with customs arrangements.
Speaking at the same virtual meeting with Welsh businesses to mark St David's Day (see 11.11am), Mark Drakeford, the Welsh first minister, has called for border controls to be made tougher, not looser. He said Boris Johnson's comments about the possibility of foreign holidays being allowed this summer worried him "hugely". He said:
It worries me hugely to hear the prime minister say that he intends to reopen international travel in May of this year.

Our September in Wales was made far more difficult by the fact that we had a big importation of the virus from France, Spain, Greece, Bulgaria, Turkey. Every day I will be reading of new outbreaks of people who have gone away, caught the virus and brought it back with them.

If ever there was a year to be staying at home and to be enjoying all the fantastic things Wales has to offer, this must be it.

I would build the walls higher for now against the risk that we would bring into this country the variants that could be brewing in any part of the world, and could then put at risk all the careful work we have done to try and keep Wales safe.
As explained earlier (see 9.13am), Johnson has not said that he will definitely allow international travel from May. But the roadmap for easing lockdown published this week did raise this as a possibility, leading to a surge in bookings for foreign holidays.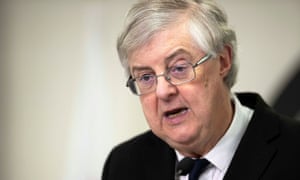 Sir Keir Starmer has said the discovery of the P1 Brazilian variant in the UK shows the government has not "secured our borders in the way we should have done".
Speaking at a virtual meeting with Welsh businesses to mark St David's Day, Starmer said:
It demonstrates the slowness of the government to close off even the major routes, but also the unwillingness to confront the fact that the virus doesn't travel by direct flights.

We know from last summer that a lot of virus came in from countries where it didn't originate in, but people were coming indirect, and that's the way people travel.

I still think we haven't secured our borders in the way we should have done, and the sooner that's done the better.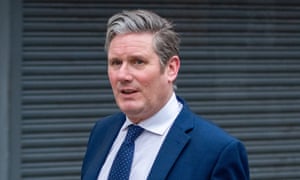 Q: What support would Labour offer the travel industry?
Dodds says the government promised a deal for the aviation sector. But it has not delivered it. Aviation needs a planned change in the future as the economy decarbonises. But that is not what is happening now. Instead it is facing abrupt change. That is devastating for communities dependent on that industry, she says.
Q: It is important to rein in the deficit?
Dodds says in the future you have to make the public finances more sustainable.
But she says the chancellor has been privately telling Tory MPs he wants to raise taxes now so he can cut them before the election.
Q: How will you re-establish Labour's reputation for economic competence?
Dodds says the Labour-government in Wales has been spending money responsibly. And she says the Tory government has missed its fiscal targets. But she says it is frustrating that Labour is not where she would like it to be on economic competence.
Q: Do you need to have a higher profile personally?
Dodds says, during the pandemic, Labour has adopted a constructive approach to opposition. It wants to see the fight against Covid succeed. In other circumstances politics might have been operating differently, she says.
Anneliese Dodds, the shadow chancellor, is now taking questions after her speech.
Q: You says now is not the time to raise taxes. So when is the time to raise taxes?
Dodds says Labour has been very clear that now is not the time for tax rises.
On when it would be right, she says they have to be guided by the economic situation. There are big anomalies in the tax system. Taxes on bricks are higher than taxes on clicks. But at the moment the need is to focus on getting the country on the road to recovery.
Q: So would you vote against an increase in corporation tax for the short term? And vote for it going up in the longer term?
Dodds says they will wait and see what is announced. She says Tory governments have pulled corporation tax away from the international average. So they would look with interest at any plan to change that, especially if it were combined with changes to business rates.
But if the chancellor imposes taxes rises "right now", Labour would say that it's not the time for that.
On the Today programme this morning Prof Graham Medley, professor of infectious disease modelling at the London School of Hygiene and Tropical Medicine and chair of the the Scientific Pandemic Influenza Group on Modelling (SPI-M – a subgroup of Sage, the Scientific Advisory Group of Emergencies), said the discovery of the P1 Brazilian variant in the UK showed why it was possible that the UK might have to "go backwards" in terms of relaxing restrictions. He said:
It is a variant of concern but we are going to be faced with these in the next six months as we move towards relaxing measures – there are going to be challenges on the way – and there is always a risk that we might have to go backwards, and that's what nobody wants to do is to actually open up and then have to close down again.
He also suggested that the government may have to return to a system of regional restrictions in England. He explained:
We are already seeing, and when we start opening up we will see more, variation in terms of prevalence around different parts of the country

At the moment all the thinking that I've seen – but I'm sure there's others – that has been largely national in terms of thinking about what the data are that we need to guide the process of releasing these measures.

But the data will show different things in different parts of the country, and so the challenge will be what do you do in terms of opening things up when in one place it says it's a good idea, in other places it says it isn't?

We'll have to look at those regional variations because they are likely to be just as big as they were last summer and in the autumn.
Boris Johnson's plan for easing lockdown restrictions in England is based on the premise that all parts of the country will move to lighter rules at the same time. This is the opposite of the tiering approach adopted last autumn. Johnson has argued that a national approach is justified because the Covid situation is similar across all regions of England. But at the Downing Street press conference on Friday the government presented a slide showing that in 20% of English local authority areas Covid cases are rising.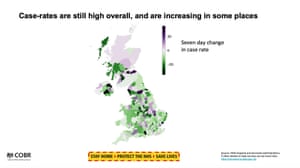 Anneliese Dodds, the shadow chancellor, has just started giving her speech on the economy. There is a live feed here. I will post a summary once I've read the text, although if there is a Q&A, I'll cover that as it happens.
Nadhim Zahawi, the vaccine deployment minister, was in the government hot seat on the news programmes this morning. Here are some of the main points he was making.
Zahawi explained why the authorities had not been able to trace one of the three people in England who has tested positive with the P1 Brazilian variant of coronavirus. The person was using a home test kit, or a test kit provided by the local council, and did not fill in the test card properly, he said. He went on:
We are working with the postal service to try and get other data to try and locate them, and this appeal is a belt and braces to try and make sure we locate them as quickly as possible.
He said that 50m lateral flow tests had been delivered to schools in England. He went on:
[Schools] have already done about three million tests, even before we set out the road map to reopening by March 8. Teachers will be tested twice a week, even in secondary schools and colleges will be tested twice a week. There's a big infrastructure of testing going into schools.
He said he expected the rate of vaccination to double over the next 10 weeks. He said:
You have seen the numbers tick up of second doses – yesterday I think we were at 800,000 second doses.

And in March you will see that number increase even more, because obviously those who had the first dose in January will be getting their second dose.

The NHS have got all the protocols in place to deliver that, as well as of course continuing to do the first dose.

March will be a very big month for us. We'll probably going to be twice the rate over the next 10 weeks as we have done over the past 10 or 11 weeks.
He rejected claims the government had dithered when it came to imposing hotel quarantine for arrivals from high-risk countries. He said:
I would say to you that the border controls that we have are pretty stringent. Even countries that had hotel quarantine, like Australia, still have to deal with the variants actually challenging them in the same way they challenge us.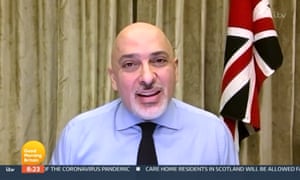 Dr Deepti Gurdasani, an epidemiologist at Queen Mary University of London, told BBC Breakfast this morning that the discovery of the P1 Brazil variant in England highlighted the "failures in quarantine policy". She said:
Sage has advised that, unless we had a comprehensive, managed quarantine policy at our borders, something like this would happen. But unfortunately it's something that we've been quite complacent about; now we're just seeing the consequences of that.
Gurdasani was referring to this warning contained in minutes (pdf) from a meeting of Sage, the government's Scientific Advisory Group for Emergencies, held on 21 January. It said:
Measures to reduce importations are most important when domestic prevalence (either overall or of particular variants of concern) is low and when importation could result in R>1. No intervention, other than a complete, pre-emptive closure of borders, or the mandatory quarantine of all visitors upon arrival in designated facilities, irrespective of testing history, can get close to fully preventing the importation of cases or new variants (moderate confidence, moderate evidence) …

Reactive, geographically targeted travel bans cannot be relied upon to stop importation of new variants, due to the lag between the emergence and identification of variants of concern, as well as the potential for indirect travel via a third country (moderate confidence, moderate evidence).
On its website South Gloucestershire council has given details of where surge testing is taking place in response to the discovery of two cases of the P1 Brazil variant in the borough. Here are the postcode sectors where people are being asked to get tested:
BS32 0
BS32 8
BS32 9
BS34 5
BS34 6
Prof Danny Altmann, a professor of immunology at Imperial College London, told Times Radio this morning that people should be "somewhat worried" about the discovery of the Brazilian variant P1 in the UK. Asked how worried people should be, he replied:
Somewhat worried but not total panic, perhaps.

It's somewhat more worrying than the UK variant, the Kent variant, that we're used to talking about, because it covers the double whammy, we think, of being more transmissible and somewhat better at evading neutralising antibodies.
Altmann said research in the Brazilian city of Manaus, where many people were thought to be immune because so many people were infected during the first wave, suggested the new variant was "breaking through" antibodies built up by previous infection. He said:
It was expected that there would be quite a high level of protection there because analysis of antibodies in blood bank samples showed [Manaus] had one of the highest levels of immunity in the world coming into the second wave, perhaps more than 70%, and yet they're seeing this enormous wave of reinfections.

So, if you put two and two together their assumption is that's because the new variant is breaking through those antibodies. But if that hadn't really been proven yet, it looks likely.
Here is a briefing (pdf) on the P1 Brazilian variant produced by Nervtag, the government's New and Emerging Respiratory Virus Threats Advisory Group, at the end of January. It said:
It is possible that the P1 variant will show similar patterns of antigenic escape [ie resistance to immunity] to vaccine-acquired immunity as the B1351 variant [the so-called South African varian], due to similar genomic profiles, in particular the presence of E484K. However, there remains no direct evidence for antigenic escape from vaccine-acquired immunity in the P1 variant.
Good morning. As my colleague Linda Geddes reports in our overnight story, the discovery of six cases of the highly transmissible Brazilian coronavirus variant in the UK – three in England, and three in Scotland – has revived concerns that the border controls imposed by the UK government are not tough enough. Her story is here.
Yvette Cooper, the Labour chair of the home affairs committee, was on the Today programme this morning saying that ministers have repeatedly been told that the measures currently in place in England may be inadequate. She made the same points in a thread on Twitter last night with accompanying "I told you so" evidence.
On the Today programme she made a further point, saying that the latest development illustrated why summer holidays abroad might not be possible this year. When she was asked if she thought the government would have to ban holiday flights over the summer, she replied:
You're right, there is a concern about whether the government is raising expectations about summer holidays that they may not be able to meet, because this will depend on the relationship between the spread of these new variants and what happens with the vaccine, and the timetable about things like boosters for the vaccine.

And we've been advised on the committee by scientists that these border measures, and the strength of these border measures, becomes even more important as domestic cases fall. So as our own cases fall, and as the economy and society opens up, they argue that that's when you actually need stronger measures at the border, rather than reducing them.

The trouble is at the moment the government is encouraging people to think that those summer holidays are all going to be possible and international travel is going to return.
To be fair to the government, ministers have never said that foreign summer holidays will definitely be possible. Going abroad for a holiday is currently against the law, and, when asked, ministers say it is too soon to say what will be allowed in the summer.
But when Boris Johnson published his roadmap for easing lockdown restrictions in England last Monday, he announced a review of the rules for global travel that will report by 12 April, and the roadmap (pdf) said that once the review was published, "the government will determine when international travel should resume, which will be no earlier than 17 May". That prompted a surge in foreign holiday bookings.
Here is the agenda for the day.
9.30am: The ONS publishes its latest Covid schools infection survey for England.
10.30am: Anneliese Dodds, the shadow chancellor, gives a speech on the economy.
12pm: Downing Street holds its daily lobby briefing.
12.15pm: Mark Drakeford, the Welsh first minister, holds a coronavirus briefing.
12.15pm: Jeane Freeman, the Scottish government's health secretary, holds a coronavirus briefing.
4pm: David Cameron, the former PM, gives evidence to the joint committee on national security strategy.
5pm: No 10 may hold a press conference.
Politics Live is now doubling up as the UK coronavirus live blog and, given the way the Covid crisis eclipses everything, this will continue for the foreseeable future. But we will be covering non-Covid political stories too, and when they seem more important or more interesting, they will take precedence.
Here is our global coronavirus live blog.
I try to monitor the comments below the line (BTL) but it is impossible to read them all. If you have a direct question, do include "Andrew" in it somewhere and I'm more likely to find it. I do try to answer questions, and if they are of general interest, I will post the question and reply above the line (ATL), although I can't promise to do this for everyone.
If you want to attract my attention quickly, it is probably better to use Twitter. I'm on @AndrewSparrow.