Editor's Note: Forte, the favorite to win the Kentucky Derby, was scratched early Saturday morning.
The Kentucky Derby — one of the sports world's grandest events — is finally here. As bettors know, events with this much fanfare come with countless opportunities to cash in on winning wagers.
So for this weekend filled with pomp and circumstance and chances to turn betslips into bucks, we enlisted the help of our betting talent.
Our experts — Chris "The Bear" Fallica, Sammy Panayotovich and Geoff Schwartz — are here to give you their best bets, predictions and insights for what will certainly be a thrilling weekend of horse racing.
Put on your seersuckers and fascinators, grab a mint julep and get ready to bet on the first leg of the Triple Crown.
Chris "The Bear" Fallica's bets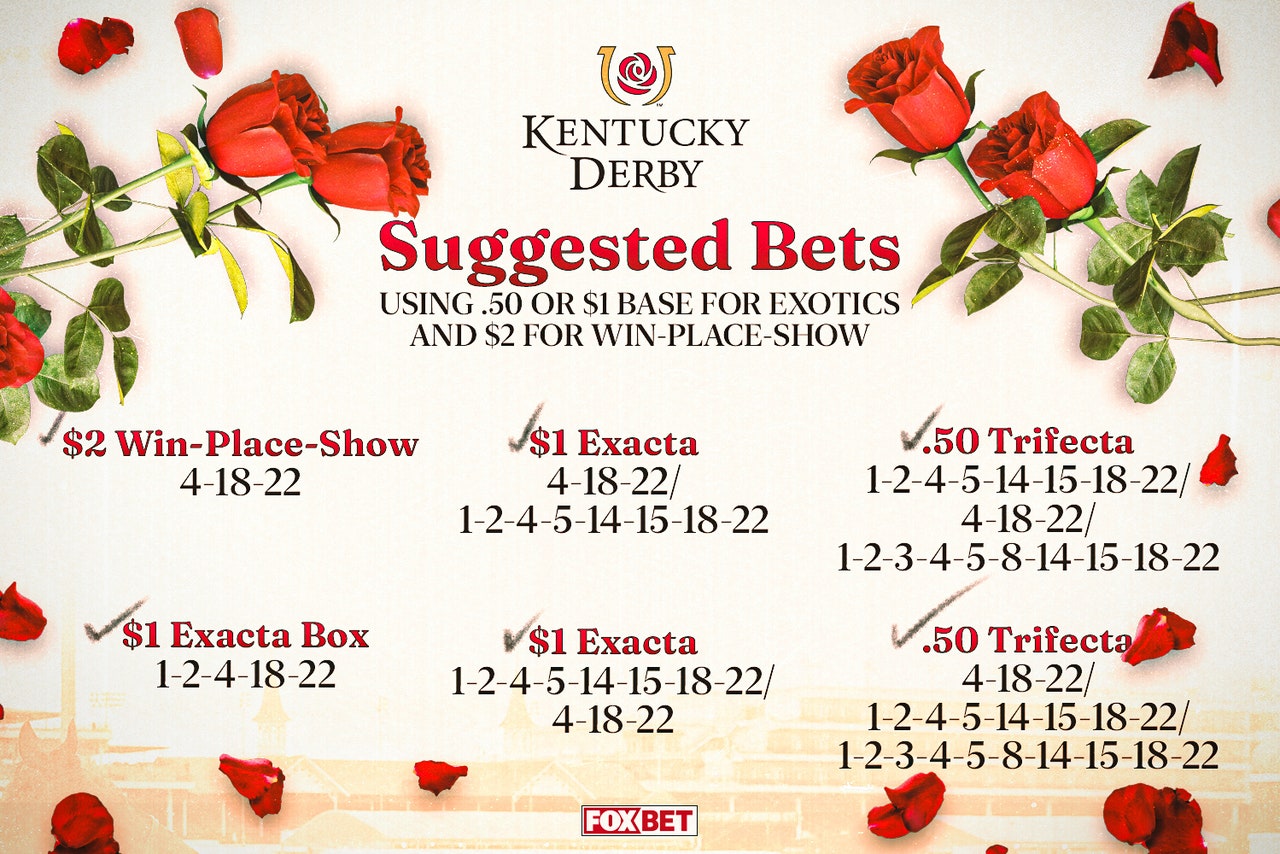 Read here for his full breakdown and betting nuggets.
Sammy P's Best Bets
LONG-SHOT BET: No. 11 Disarm (30-1)
Trainer Steve Asmussen has done great work with Disarm, a three-year-old who's finished in the money in all five career starts. He's the sire of 2016 third-place finisher Gun Runner, so the bloodline is strong. Disarm has solid potential to escalate your exotics, given his late-breaking nature towards the end of races.
PICK: No. 15 Forte (3-1) SCRATCHED
I'm not a big "favorites guy," but sometimes you gotta do what you gotta do. Forte has four Grade-1 victories and is a proven finisher with six career wins, including a late, powerful break to win the Florida Derby. The fifteenth post position shouldn't be a problem for Forte, who has the natural ability and closing speed to outlast everybody else down the stretch and bring home the bacon.
Veteran horse handicapper Kirk Rockwell told FOX Sports that Forte is a Triple Crown contender and said to be careful picking against him.
Insight from Geoff Schwartz
If you're like me, you like to watch sports with some action on the contest, and responsibly wagering on an event makes you feel more connected to the action. Nothing is worse than being left out of the water-cooler discussion. Well, I'm always left out of the conversation about the ponies, but that stops this weekend.
Yes, I always watch the Triple Crown races each spring. But I often watch without any action and regret not finding a way to get more knowledgeable. So in preparation for this Derby, I reached out to my buddy, radio co-host, and professional gambler Bill 'Krack' Krackomberger for advice on the easiest ways a newcomer to Derby wagering can get in on some action.
Krack advised to skip all the 'Fecta wagers and look for the head-to-head match-up bets where you can gamble on which horse will finish ahead of another horse. Per Krack, "Market handicap them. Look at the odds board, and if one horse is 2/1 and the horse he's up against is 5/1, you can look for value there." He also strongly advised us to wait until near post time to make these wagers, as you'd get the most up-to-date lines possible.
I know I'm writing this much earlier than post time, but we can use this method of finding value in head-to-head matchups to wager on something right now. Again, I want to remind you that you should wait until near post time to get the best odds on these bets as they will fluctuate between now and then.
In a head-to-head matchup, Verifying is -135 up against Two Phil's, listed at +115. However, Two Phil's is 16/1 to win the race, while Verifying is 18/1 to be in the winner's circle. If we use the wagering strategy listed above, Two Phil's offers decent value at plus money being a slight favorite to win the race ahead of Verifying.
If we want to get deep into the woods, Jace's Road is +110 in a matchup against Reincarnate, with Jace's Road currently at 33/1 to win the race, as opposed to Reincarnate, at 40/1.
As you can see, this is a fairly easy way to find value in a race you have not studied for beginners. For casual bettors like me, it allows you to get some action down while giving you a rooting interest in the race. As usual, please wager responsibly and do not wager more than you're able to lose.
Enjoy the race!
Download the FOX Super 6 app for your chance to win thousands of dollars on the biggest sporting events each and every week! Just make your picks and you could win the grand prize. Download and play today!
---

Get more from Horse Racing Follow your favorites to get information about games, news and more
---