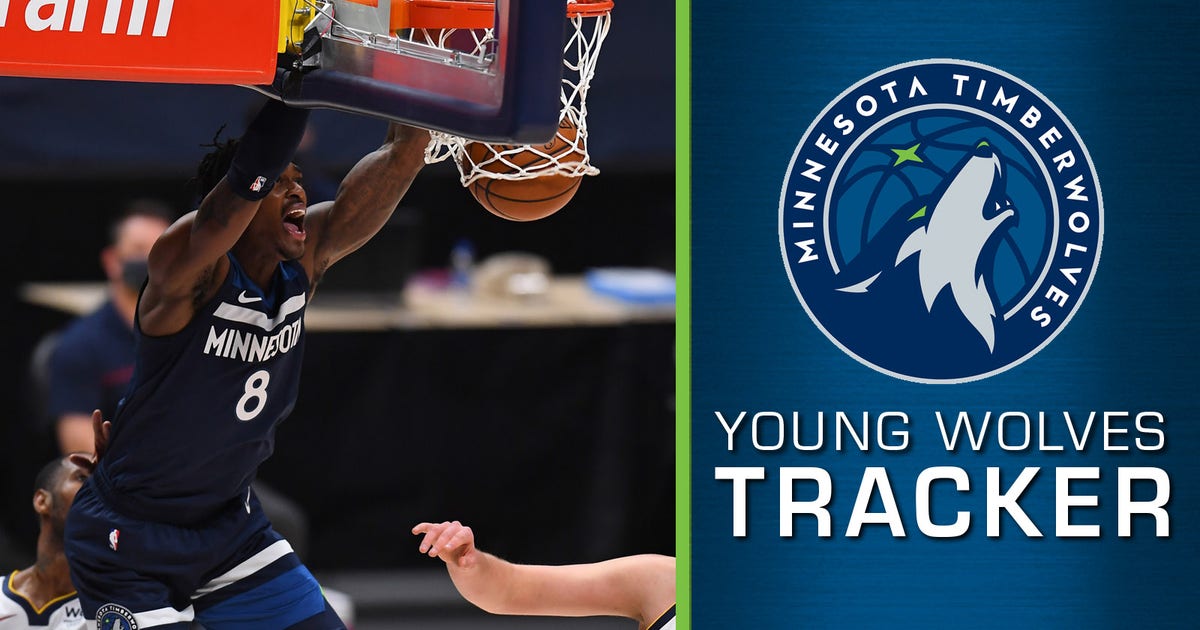 President of basketball operations Gersson Rosas has a vision for the Minnesota Timberwolves.
After making big changes to the Wolves' roster at the 2019-20 trade deadline, Rosas has surrounded All-Stars Karl-Anthony Towns and D'Angelo Russell with a core of promising young talent.
Each Thursday, we'll be tracking the progress of these young players while also keeping up with the G League Iowa Wolves to see who will rise to the challenge of bringing a consistent, winning team to Minnesota.
This is the 2nd edition of the 2020-21 Young Wolves Tracker.
SPOTLIGHT ON …
Forward Jarred Vanderbilt
Heading into the 2020-21 season, 21-year-old power forward Jarred Vanderbilt had 36 total points in 115 career minutes (28 games) under his belt. He had one game with more than four points.
So, after nine appearances with the Timberwolves this season, is it crazy to speculate Vanderbilt is due for a bigger role? No, it's not.
Vanderbilt, the former 2018 second-round pick by Orlando who made his way to Minnesota in last year's trade-deadline deal with Denver, is proving he belongs. The Kentucky product is averaging 5.2 points, 5.1 rebounds and 1.1 steal in 14.9 minutes per game.
Those stats don't jump off the table. But let's look deeper.
Vanderbilt averages 12.6 points, 12.4 rebounds, 2.7 steals per 36 minutes. According to Basketball Reference, he owns the best offensive rating (124) and defensive rating (108) on the Timberwolves. Vanderbilt also ranks second on the team in PER (19.5), true shooting percentage (62.9%) and defensive rebound percentage (28.2%).
🔋 instant energy 🔋@JVando pic.twitter.com/YhZt6dAaFj

— Minnesota Timberwolves (@Timberwolves) January 10, 2021
"He makes it hard for a coach to keep him off the floor," head coach Ryan Saunders said Wednesday.
The Wolves haven't seen much productivity at the power forward position. Juancho Hernangomez is shooting just 30.8% from 3-point range, and when healthy, Jake Layman hasn't done much either (4.8 PPG).
More Timberwolves coverage
The metrics indicate Vanderbilt is ready for more playing time. And the Wolves, who have lost eight of their last nine games, could use a shakeup.
WOLF TRACKS
— Karl Anthony Towns, D'Angelo Russell and Malik Beasley are all averaging 20+ points per contest.
— No. 1 overall pick Anthony Edwards has hit the first skid of his young NBA career. Over the last two games, Edwards has scored a total of two points on 1-for-14 shooting (7.1%). He doesn't have any trips to the free-throw line in that span, either.
— Also cooling off over the last two games is Jarrett Culver, scoring four combined points on 2-of-7 shooting from the field. Culver tallied six steals over his first six games this season. He doesn't have a single steal in his last five contests.
— Ricky Rubio set a season high with 10 assists against Portland on Jan. 7. He also had a season-best five steals in that game.