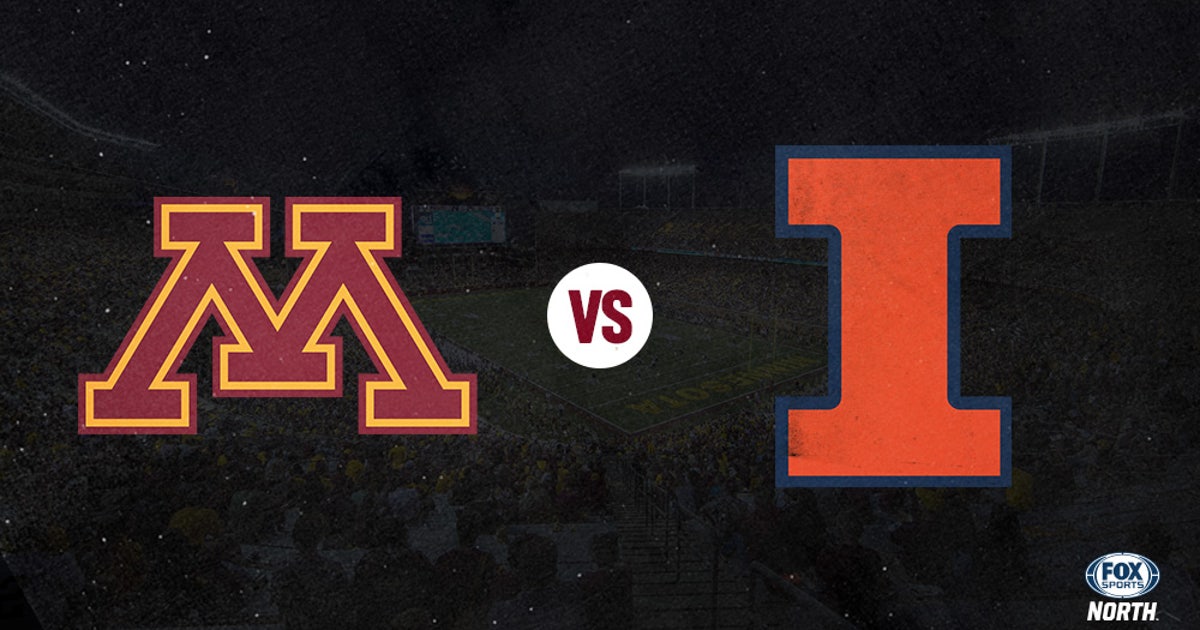 Last week it was thought that Maryland might be the cure which ailed the Minnesota Gophers.
Welp.
Maybe it's this week?
The Gophers travel to Illinois on Saturday, both teams off to an 0-2 start and desperate for a win in a shortened eight-game regular season.
Minnesota's defense has been carved up, allowing 94 points and 1,156 yards in two games. Illinois is down to quarterback No. 4 thanks to positive COVID-19 tests to the top-two QBs and an injury to its third-stringer.
More Gophers coverage
As is often said, something has to give.
Will Minnesota finally get win No. 1? Well, at least we know there won't be a tie.
Here's this week's predictions from around the web:
Pete Fiutak of Collegefootballnews.com: Minnesota 38, Illinois 30. "Illinois doesn't have the skill parts in the backfield to do to the Gophers what Maryland did, but it'll make this a nasty battle on the lines. Minnesota won't mess around too much. It'll have a more balanced attack, the running game will go for a full four quarters, and the passing game will be more explosive with Rashod Bateman and the offense overcoming another rough day from the defensive side."
Josh Slagter of mlive.com: Minnesota 38, Illinois 24. "OK, the Gophers' defense can't be so bad that Minnesota will have any trouble with Illinois, right? This game is only a touchdown spread because of precisely that concern, even though the Illini will be starting backup Coran Taylor at QB again. The good news for Minnesota's Tanner Morgan is that opposing quarterbacks have had little resistance against Illinois, so maybe this is where he gets on track. So far Rashod Bateman's jersey number matches his touchdown total, and that should change in this game."
Sam McKewon of the Omaha World-Leader: Minnesota 38, Illinois 28. "Illinois' pass defense continues to have major issues, allowing career days to Graham Mertz and Aidan O'Connell. Morgan, as good as either guy and perhaps better than both, should have a nice day. Minnesota is favored by seven. I like Fleck's crew to win by a little more."
Chad Lestikow of the Des Moines Register: Minnesota 35, Illinois 30. "After being humbled in a shootout at Maryland that exposed their weak defense, the Gophers should have plenty of motivation against an Illinois roster gutted by key COVID-19 absences. If the Illini can cut down on their turnovers (four in a 31-24 loss to Purdue), they can hang."
Bleacher Report's Kerry Miller: Minnesota 35, Illinois 24.
Gabe Salgado of Athlon Sports: Minnesota 24, Illinois 17. "The Illini may have the advantage at home, but Minnesota has a better offense, Illinois is struggling on defense, and the Fighting Illini are expected to be shorthanded again. The Golden Gophers take the win on Saturday."
Joe Vozzelli Jr. of the Champaign News-Gazette: Minnesota 42, Illinois 30. "In a matchup of two equally bad defenses, the Gophers have the requisite firepower to take most advantage of that fact. Minnesota, after all, has all of its top offensive players available in Tanner Morgan, Rashod Bateman and Mohamed Ibrahim while Illinois will still be without QB1 Brandon Peters (COVID-19). Still expect Coran Taylor to play well, especially after a full week of reps with the first-team offense."
Johnny Parlay – can we agree that's not his real name – of USA Today's Sportsbook Wire: Minnesota 35, Illinois 24.
Andy Greder of the Pioneer Press: Illinois 35, Minnesota 31.
Bill Connelly of ESPN: His S&P projection has it Minnesota 33, Illinois 25.
Mark Hasty of Go Iowa Awesome: Minnesota 41, Illinois 17. "It's unfair to judge any team based on the knocked-over Scrabble game this season is going to wind up being, but Minnesota falling twice already this season probably has folks in Minneapolis so worked up they're almost considering saying something about it. Illinois has struggled mightily on offense this season, but the Gophers have given up 94 points in two games, so something has to give here. Since you can hardly ever go wrong predicting that Illinois will continue to struggle, that will be my move here. The Gophers get on track and Lovie Smith starts reading the writing on the wall."
Jeremy Werner of Illini Inquirer: Illinois 34, Minnesota 28.
Two of three Athlon Sports writers pick Minnesota to win.