FOX Sports writers are providing takeaways from games throughout the NBA playoffs. Here are their thoughts from Thursday.
There's something poetic about watching Klay Thompson shine.
Part of it is his style of play.
He catches and releases the ball in a fraction-of-a-second, leaving the rest of us to wonder how in the world he makes advanced geometric calculations that his neurons somehow transfer to his arm all in the blink of an eye.
But much of it is his history.
Thompson recently came back from back-to-back ACL and Achilles' injuries that sidelined him for 2 1/2 years. He was depressed. He didn't know whether he'd ever be the player he was before the long layoff.
Watching him excel is the feel-good fodder of Hollywood movies, so it was especially entertaining that his best game of these playoffs came against Los Angeles' glamour franchise.
Thompson finished with 30 points in 31 minutes to lead the Golden State Warriors to a 127-100 win over the Lakers in Game 2 of their Western Conference semifinals series, tying the series at 1-1.
After the Lakers fell into a seven-point hole in the first quarter, Thompson took over in the second, finishing with 14 points — twice as many as anyone on the court.
He went on to pour in another 11 points in the third quarter, helping the Warriors grow their lead to as much as 30 points in that period. He finished with an impressive 11-for-18 shooting from the field, going 8-for-11 from beyond the arc.
"Klay obviously can get really hot, really fast," Warriors coach Steve Kerr told reporters after Game 2.
This series is special for Thompson, who grew up in Southern California as a die-hard Kobe Bryant fan.
Thompson's father, Mychal, was a two-time champion with the Showtime Lakers who went on to work as a color commentator for his former team, introducing his son to his longtime hero when he was just 13. They developed an enduring bond, which Fox Sports wrote about in-depth earlier this season. In fact, Thompson credits a video of Bryant calling him a "stone-cold killer" as helping him get through his injuries.
Now, Thompson is playing against the team he grew up admiring.
WIth his father in the audience, he put on a show, reminding everyone that he's still one of the greatest shooters to ever play the game despite his multiple setbacks.
A stone-cold killer indeed.
Melissa Rohlin is an NBA writer for FOX Sports. She previously covered the league for Sports Illustrated, the Los Angeles Times, the Bay Area News Group and the San Antonio Express-News. Follow her on Twitter @melissarohlin.
---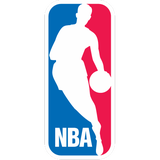 Get more from National Basketball Association Follow your favorites to get information about games, news and more
---