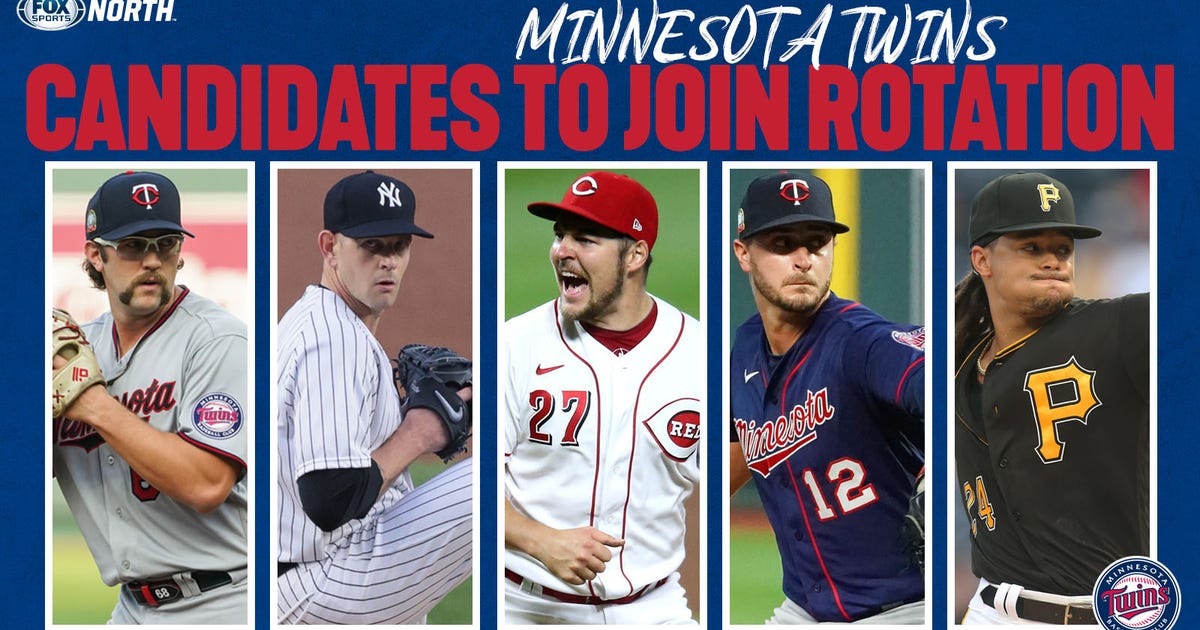 In 2020, Minnesota's starting rotation ranked fifth in the big leagues with a 3.54 ERA as it steered the Twins to a second straight division title.
However, Homer Bailey, Rich Hill and Jake Odorizzi became free agents after the season, leaving a bit of space to fill in the rotation behind Jose Berrios, Kenta Maeda and Michael Pineda. The Twins made a move Jan. 22 by signing veteran left-hander J.A. Happ to a one-year deal, but that still leaves the No. 5 starter position wide open.
Let's dive into some options to fill that void who are currently on the 40-man roster, in the minor leagues and in free agency:
THE LOCKS
Jose Berrios
Berrios ran into some trouble last season, as he failed to reach the sixth inning in five of 12 starts and registered a 4.00 ERA and 4.06 Fielding Independent Pitching (FIP; a stat which removes results on balls hit into the field of play and therefore focuses on events which a pitcher controls), his worst marks since his rookie season in 2016. We expect him to get back to the "La Makina" we know in 2021 — the one who logged a 3.76 ERA and 9.1 K/9 while being named an All-Star in 2018 and '19.
J.A. Happ
The 38-year-old left-handed pitcher will eat up some innings in the back of the Twins rotation. Happ started nine contests for the New York Yankees last season and allowed 19 runs in 49 1/3 innings (3.47 ERA, 4.57 FIP) and averaged nearly three strikeouts per walk.
Kenta Maeda
The Twins gave up coveted prospect Brusdar Graterol to the Los Angeles Dodgers in the trade for Maeda last offseason. It was worth it. Maeda finished second in 2020 AL Cy Young award voting after tallying a 6-1 record, 2.70 ERA, 3.00 FIP and 10.8 K/9 in 11 starts (66 2/3 IP). Encore!
🔥 8 STRAIGHT STRIKEOUTS 🔥

Kenta Maeda sets a new @Twins record! pic.twitter.com/lzTnzhnqsI

— FOX Sports North (@fsnorth) August 19, 2020
Michael Pineda
Suspended for taking a banned diuretic towards the end of the 2019 season, Pineda served the final 36 games of his ban in 2020, greatly shortening his campaign. He returned to the mound Sept. 1 and pitched well, logging a 2-0 record, 3.38 ERA and 25 strikeouts in five starts (26 2/3 IP). We'll take a full season of that for sure.
That leaves one spot open in the starting rotation …
Offseason Options
40-MAN
Jordan Balazovic
Listed as the Twins' top pitching prospect by MLB.com, Balazovic was expected to make his debut in 2020 before the season was shortened to 60 games. In 2019, he tallied a 6-4 record, 2.84 ERA and .193 OBA in 15 games (14 starts) for High-A Fort Myers. It likely won't be long before Balazovic gets the call up.
Dakota Chalmers
Every year there seems to be a Twins prospect who makes a much bigger impact on the club than anyone anticipated in the offseason. Could it be Chalmers? Chalmers arrived in the Twins organization when Minnesota traded Fernando Rodney to Oakland in 2018. The No. 23 Twins prospect (No. 7 among pitchers) registered a 3.63 ERA and .171 OBA in nine starts for High-A Fort Myers in 2019.
Randy Dobnak
Dobnak was the best story on the Twins roster in 2019, beginning the season at High-A Fort Myers and ending it as the starter of Game 2 of the ALDS at Yankee Stadium. In 2020, however, he came down to earth a bit. Dobnak allowed 9.6 hits per nine innings, 21 runs in 46 2/3 IP (4.05 ERA) and logged a humble 5.2 K/9. But the durable Dobnak was one of just three Twins pitchers to make double digit starts last season with 10. He's currently the favorite to win the No. 5 starting spot.
The story behind @Dobnak_'s stash 😂

🔊 sound on 🔊 pic.twitter.com/R9ch8ux9Vh

— FOX Sports North (@fsnorth) August 1, 2020
Jhoan Duran
Twins fans dream of the day Duran and Balazovic can be a 1-2 punch in the starting rotation. In 2019, Duran logged 115 IP (23 games, 22 starts) with a 3.76 ERA, .230 OBA and 1.19 WHIP for High-A Fort Myers and Double-A Pensacola. Duran likely won't begin the year as the Twins' No. 5 starter, but he could definitely see the big-league mound at some point in 2021.
Devin Smeltzer
Smeltzer's 2020 debut did not go well. He came in relief in the sixth inning of the Twins' 10-3 loss to the Chicago White Sox on July 25 and yielded two home runs, six hits and five runs in two innings. Taking that outing out, Smeltzer's numbers over his final six appearances still weren't great with a 4.50 ERA and four walks in 14 IP. Smeltzer is likely bound for a long-reliever role with the Twins in 2021.
Lewis Thorpe
Another left-hander, the Australian-born Thorpe has struggled in his limited time in the majors. Pitching 44 innings in 2019-20 he has a 6.14 ERA and 1.864 WHIP. The 25-year-old is still on the radar but might be lower on the depth chart and on a "need to call up" basis.
FREE AGENTS
Brett Anderson
In two stints with Oakland (2009-13, 2018-19), Anderson owned a 43-43 record, 3.91 ERA, 3.88 FIP and 1.289 WHIP in 132 appearances (121 starts). He spent 2020 with Milwaukee, starting 10 games and allowing 22 runs in 47 IP (4.21 ERA, 4.38 FIP). The 32-year-old is far from an ace, but a fifth starter? Sure!
Chris Archer
Pittsburgh traded the farm to Tampa Bay for Archer in 2018. It did not work out. Archer started 33 games for the Pirates from 2018-19 and tallied a 6-12 record, 4.92 ERA and 4.71 FIP. He struggled with control, logging a 3.8 BB/9. Meanwhile, Tyler Glasnow and Austin Meadows — two prospects involved in the trade — helped the Rays to a World Series appearance in 2020. Archer missed the 2020 campaign after undergoing surgery to relieve symptoms of neurogenic thoracic outlet syndrome. A one-year prove-it deal would be the only thing that makes sense if he signs with Minnesota.
Jake Arrieta
Once one of the most feared pitchers in baseball, Arrieta signed a three-year deal worth $75 million with Philadelphia in 2018. He never lived up to his 2016 Cy Young award winner clout. In 64 games with the Phillies, Arrieta registered a 4.36 ERA (4.55 FIP) with 7.1 K/9 and 3.2 BB/9. Last year, Arrieta allowed 3+ runs in five of nine starts and walked 3+ hitters three times. So, let's just say he won't have a $75 million price tag this time around.
Trevor Bauer
In case you haven't heard due to his constant posting on social media, Bauer is a free agent. And it couldn't have come at a better time for the right-hander. Bauer won the National League Cy Young award after leading the NL with a 1.73 ERA (276 ERA+), 0.795 WHIP and 5.1 H/9. He'll be pricy, but maybe Bauer would take a pay cut just so he wouldn't have to face Max Kepler ever again.
Jake Odorizzi
Odorizzi spent the last three seasons with the Twins, starting 66 contests and posting a 22-18 record, 4.11 ERA and 9.4 K/9. He was named an All-Star in 2019, going 10-4 with a 3.15 ERA and 96 strikeouts in 88 2/3 innings before the break. In 2020, Odorizzi dealt with a variety of injuries, dealing with a blister on his finger and, later on, a chest contusion after being hit by a comebacker. Odorizzi deserved a better Twins sendoff. Why not bring him back?
James Paxton
You may remember Paxton from the Twins' 2018 opening day when an eagle landed on him during the national anthem. Since then, Paxton has been with the Yankees, registering a 4.16 ERA and 1.304 WHIP in 34 starts from 2019-20. He struggled a bit last season, allowing 15 runs in 20 1/3 IP (6.64 ERA) and did not make a 2020 postseason appearance for the Yankees.
Rick Porcello
Porcello is … not quite the same pitcher who won the 2016 AL Cy Young award. He hasn't posted an ERA under 4.28 since his award-winning campaign. In 2020, Porcello notched a 1-7 record, 5.64 ERA and 8.2 K/9. However, he earned a 3.33 FIP, meaning his performance deserved a better result than an ERA flirting with 6.00.
Matt Shoemaker
Shoemaker isn't a flashy name, but he's been a solid pitcher for eight seasons for the Los Angeles Angels and Toronto — when healthy. Unfortunately, that's been a problem for Shoemaker his whole career. He was drilled in the head by a line drive in 2016 and hasn't started more than 14 games in a season since. He started 14 contests in 2017, seven in '18, five in '19 and six in '20. Over the past two seasons, Shoemaker has a 3.14 ERA and 7.8 K/9 in 11 starts. If the Twins signed Shoemaker, they've got Dobnak as an insurance policy. Is it worth the risk?
Masahiro Tanaka
Tanaka hits the open market after pitching for the Yankees from 2014-20. In seven seasons with the Bronx Bombers, Tanaka tallied a 78-46 record, 3.74 ERA, 8.5 K/9 and 4.8 K/BB. He was named an All-Star twice (2014, '19) and finished seventh in Cy Young award voting in 2016. Last season, Tanaka logged a 3-3 record, 3.56 ERA and 8.3 K/9 in 10 starts. However, Tanaka is reportedly leaning towards playing in Japan next season.
NON-ROSTER/MINOR LEAGUERS
Blayne Enlow
Ranked as the Twins' third-best pitching prospect, Enlow split time between Low-A Cedar Rapids and High-A Fort Myers in 2019 and strung together an 8-7 record, 3.82 ERA and 7.7 K/9 in 21 games (20 starts). The 2017 third-round pick could be in line for an MLB debut this summer.
Matt Canterino
Selected in the second round of the 2019 draft after three years at Rice, Canterino was robbed of his first full professional season in 2020 due to COVID-19. In 2019, Canterino logged a 1-1 record, 1.44 ERA and 11.2 K/9 in seven combined starts for the GCL Twins (rookie ball) and Low-A Cedar Rapids. A climb from Single-A to the big leagues in 2021 would be unlikely … but hey, Dobnak did it!