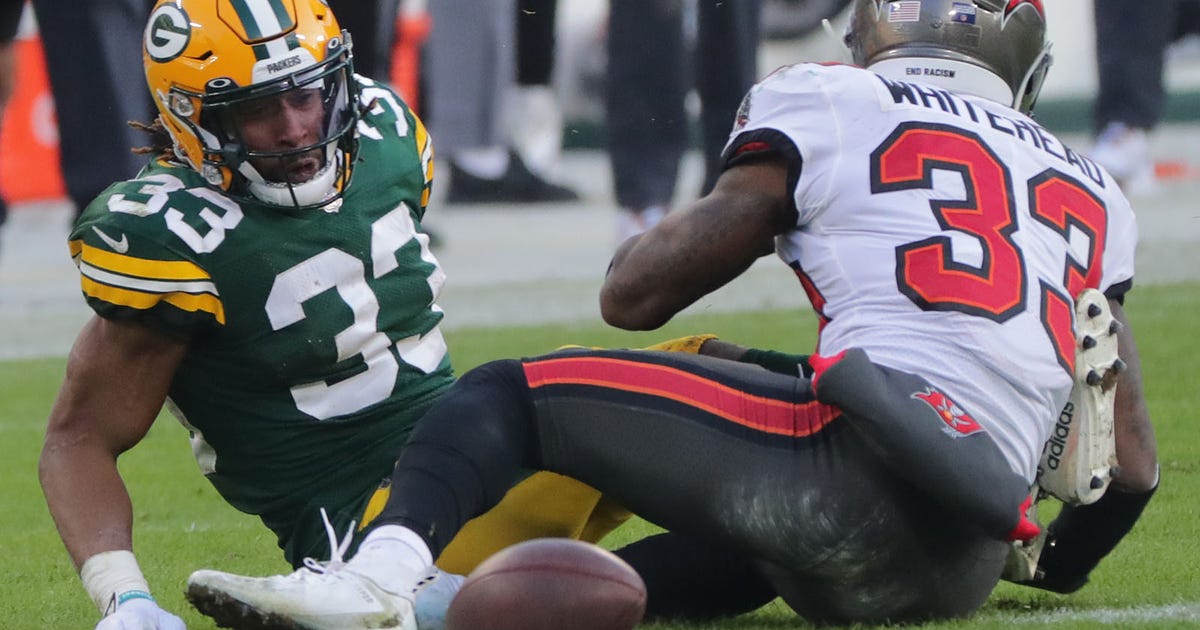 It'll be unfortunate if his performance in the NFC championship game is the last impression Aaron Jones leaves on Green Bay.
Jones carried the ball six times for 27 yards and hauled in four receptions for seven yards against Tampa Bay. He fumbled the ball twice, including losing it on the third play from scrimmage in the second half when Buccaneers safety Jordan Whitehead smacked him in the middle of the field. Jones exited the game with a chest injury and never returned, ending the day playing just 31% of the offensive snaps.
The Buccaneers scooped up the fumble and brought it inside the 10-yard line, only to score a touchdown on the very next play to take a commanding 28-10 lead.
More Packers coverage from FOX Sports Wisconsin
Green Bay never recovered from the 18-point deficit.
Jamaal Williams, who's been Jones' running mate in the backfield since both were selected by Green Bay in 2017, also didn't have much of an impact on the game. He rushed seven times for 23 yards and caught four passes for 22 yards while playing in 35 of the Packers' 71 offensive snaps (49%), the most of any Packers running back.
Jones and Williams are set to be unrestricted free agents once the new league year begins.
It's unlikely that the Packers will bring both playmakers back next season, especially with rookie AJ Dillon looking like he can handle a significant load. Dillon rushed three times for 17 yards (5.7 average) and caught one pass for 13 yards. Dillon played 16 snaps (23%), the lowest total of any Packers offensive player.
Both Jones and Williams deserved a better send off.
Jones led the league in rushing touchdowns (16) and total touchdowns (19) last season. He notched 1,000+ rushing yards in back-to-back seasons, racking up 1,104 yards on the ground in just 14 contests in 2020. Jones ranked third among running backs with an average of 5.6 yards per carry.
Williams, a sparkplug for the Packers offense, hauled in 31 of his 35 targets from quarterback Aaron Rodgers for 236 yards and a touchdown in 2020. Williams rushed 500 times for 1,985 yards and 10 touchdowns for the Packers from 2017-20.
Other notes from Sunday's snap counts:
— Tight end Marcedes Lewis played 41% of the snaps and notched a season-high three catches for 28 yards. He played 18 fewer snaps than breakout star Robert Tonyan (66%), who hauled in his first career playoff touchdown in the third quarter.
— Defensive tackle Kenny Clark tallied 2.0 sacks in the regular season. In two playoff games, the former first-round pick registered 2.5 sacks – 1.5 against Los Angeles and one sack against Tampa Bay. Clark played 92% of the snaps vs. the Buccaneers, the first time he's been on the field for over 90% of the plays all season.
— Third-year cornerback Jaire Alexander logged three passes defensed, his third career game (first playoff game) with 3+ PD. Alexander also hauled in multiple interceptions for the first time in his career, both coming in the fourth quarter from Tom Brady. He missed just one defensive snap on the field (99%).
— Per usual, Davante Adams was busy on the field, hauling in nine receptions for 67 yards and a score on 15 targets. He played 98% of the offensive snaps. Allen Lazard (82%) had the second-biggest role among wide receivers, followed by Marquez Valdes-Scantling (65%) and Equanimeous St. Brown (24%).
PLAYOFF GAME 2: VS. BUCCANEERS (OFFENSE)
| | | |
| --- | --- | --- |
| PLAYER | PLAYS (71) | % |
| Patrick | 71 | 100% |
| Jenkins | 71 | 100% |
| Turner | 71 | 100% |
| Wagner | 71 | 100% |
| Linsley | 71 | 100% |
| Rodgers | 71 | 100% |
| Adams | 68 | 98% |
| Lazard | 58 | 82% |
| Tonyan | 47 | 66% |
| Valdes-Scantling | 46 | 65% |
| Williams | 35 | 49% |
| Lewis | 29 | 41% |
| Jones | 22 | 31% |
| Dafney | 17 | 24% |
| St. Brown | 17 | 24% |
| Dillon | 16 | 23% |
PLAYOFF GAME 2: VS. BUCCANEERS (DEFENSE)
| | | |
| --- | --- | --- |
| PLAYER | PLAYS (65) | % |
| Amos | 65 | 100% |
| Savage | 65 | 100% |
| Alexander | 65 | 100% |
| King | 63 | 97% |
| Clark | 60 | 92% |
| Z. Smith | 57 | 88% |
| P. Smith | 50 | 77% |
| Lowry | 49 | 75% |
| Sullivan | 47 | 72% |
| Gary | 42 | 65% |
| Barnes | 37 | 57% |
| Kirksey | 29 | 45% |
| Summers | 28 | 43% |
| Harrison | 16 | 25% |
| Redmond | 14 | 22% |
| Martin | 14 | 22% |
| Lancaster | 12 | 18% |
| Price | 2 | 3% |