Danny Hurley had greetings for each of his starters as they walked off the court in the final seconds of UConn's critical win over Villanova. He embraced Andre Jackson Jr., his Swiss army knife, with a hearty back slap. He exchanged celebratory profanity with Alex Karaban, his hot-shooting power forward. He hugged his star, Adama Sanogo, for another rugged effort in the low post.
Part of Hurley's excitement was linked to how well the Huskies are playing: five wins in a row and eight out of nine as they enter the Big East Tournament following a 71-59 victory against an old rival at Wells Fargo Center on Saturday night. Another part was likely tied to the removal of a Wildcat-shaped monkey on Hurley's back.
Hurley entered the season with a 1-5 record against Villanova since taking over at Connecticut in 2018, though some of those games were non-conference matchups when the Huskies were still mired in the American Athletic Conference. The lone win during that stretch came on a night when Hurley was ejected late in the first half; assistant coach Kimani Young guided UConn the rest of the way. Even this year's win against Villanova in December came with a pair of asterisks: Hall-of-Fame head coach Jay Wright is no longer prowling the sideline; and the Wildcats' best player, Justin Moore, was still recovering from a torn Achilles.
So Saturday night was special for Hurley, for his players, for a program that believes it can finally make another NCAA Tournament run. The Huskies will roll into New York City with the same confidence they displayed during a 14-0 start to the season.
Jackson continues to evolve
On the morning of Dec. 31, UConn's players and coaches awoke with an undefeated record and the No. 2 national ranking. They were in a hotel somewhere near the Cintas Center in Cincinnati ahead of a highly-anticipated showdown with then-No. 22 Xavier, whose head coach, Sean Miller, had installed one of the most efficient offenses in the country during the first season of his second stint with the Musketeers.
But by mid-afternoon, after an impressive 83-73 win for Xavier, it was one of Miller's defensive stratagems that propelled his team to a victory and changed the tenor of this year's Big East title race. Miller and his coaching staff instructed whichever player was guarding Jackson to sag off on the perimeter and lurk in the lane instead, clogging the space for Sanogo, the league's preseason Player of the Year. Jackson, a notoriously inefficient 3-point shooter (29.1% for his career), took the bait. He attempted a season-high 14 shots, including 12 inexplicable hoists from beyond the arc, and harpooned possession after possession for the Huskies.
Since then, the majority of opponents have implemented a similar strategy for defending Jackson, albeit to varying degrees. He shot just 15-for-46 from the field during a stretch when the Huskies lost six of eight games between late December and late January as UConn tumbled out of contention for the regular season Big East crown. Though he was far from the only issue on a team that, briefly, seemed to forget how to defend, Jackson's lack of confidence and assuredness on offense left the Huskies playing what amounted to four against five on that end of the floor.
So much of UConn's late-season resurgence can be tied to Jackson's heightened understanding of how, and when, he can contribute to an offense that still ranks among the top 10 in the nation for efficiency — an improvement for which the coaching staff also deserves credit. By embracing his role as a cutter, passer and pace-setter in transition, Jackson has posted an offensive rating greater than 115 five times in the last seven games. It's a mark he eclipsed just twice during the Huskies' aforementioned winter skid.
The breadth of his skillset was on display again during Saturday's win over Villanova: a coast-to-coast layup for UConn's first basket of the game; a touch pass to Sanogo for an easy dunk; a defensive rebound-turned-explosion in transition that ended with a drop pass to Tristen Newton for a 3-pointer; a pair of in-your-face 3-pointers in the second half.
He finished with 10 points, seven rebounds and five assists in his fifth consecutive standout performance.
"The things that he does for the team — leadership, energy, defensive abilities — unless he has the steals and the blocks, they don't show up," Hurley said earlier this week after a blowout win over DePaul.
"And I'm so happy for him because he's the greatest guy you could coach."
Jordan Hawkins carries UConn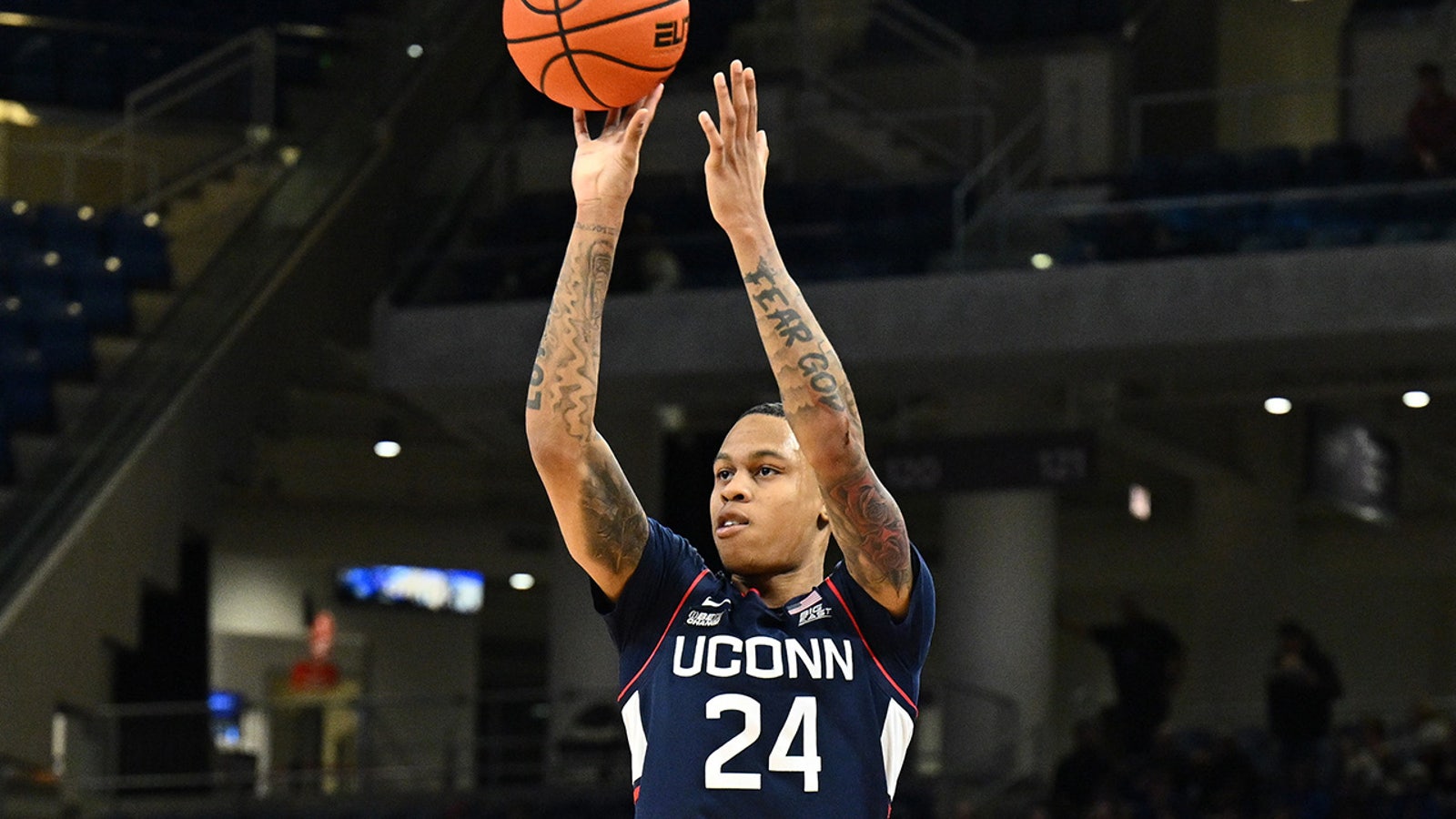 Jordan Hawkins scored 24 points on Saturday night to spark UConn to a 71-59 win over Villanova.
All aboard the Karaban caravan
When the season began, Hurley and his staff envisioned a three-headed scoring attack featuring Sanogo, sophomore sharpshooter Jordan Hawkins and former East Carolina guard Newton, one of the most coveted backcourt options in the transfer portal last spring.
Now a senior, Newton averaged 17.7 points, five assists and 4.8 rebounds per game in his final season with the Pirates. He attempted 42 more field goals than anyone else on the team and relied more on volume (12.6 shots per game) than efficiency, especially from beyond the 3-point line where he scored at a 33.3% clip on 4.8 tries per game.
Though Newton has played much better in the second half of the season — he entered Saturday's game averaging 12.1 points over his last 11 games — the adjustment wasn't always smooth. He failed to reach double figures in scoring 13 times in his first 19 games for the Huskies and endured a particularly brutal stretch of 30 turnovers in 13 games that included the January losing streak.
As Newton adjusted to the higher level of competition, redshirt freshman Karaban blossomed into a reliable scoring option alongside Sanogo (nine points, nine rebounds against Villanova) and Hawkins (team-high 24 points against Villanova). Karaban was a four-star prospect in the 2021 recruiting cycle who graduated high school early to enroll at UConn halfway through last year. He practiced with the Huskies from January through March but never appeared in a game.
Still, Karaban's early dose of experience prepared him to step into a starting role from the outset of his first full season in Storrs. His combination of size (6-8, 210 pounds) and perimeter shooting (39.4%) made him an ideal stretch-four who never infringed on Sanogo's space down low, and Karaban nailed 14 3-pointers in his first eight games. He quickly secured the first of five Big East Freshman of the Week Honors by mid-November.
On the heels of an 11-point effort during a blowout win over DePaul earlier this week, and two weeks removed from a 16-point outburst against Providence last week, Karaban again played a critical role for the Huskies on Saturday night. He chipped in 16 points on an efficient 6-for-8 shooting to steady Connecticut before Hawkins kicked into gear in the second half. He turned his only offensive rebound into a well-timed putback that gave the Huskies a double-digit lead at 54-43 and scored again on the next possession to keep the Wildcats at bay.
It was an ideal way to end the regular season for a player many believe is a shoo-in for the league's Freshman of the Year award.
Michael Cohen covers college football and basketball for FOX Sports with an emphasis on the Big Ten. Follow him on Twitter @Michael_Cohen13.
Read more:
FOLLOW
Follow your favorites to personalize your FOX Sports experience
---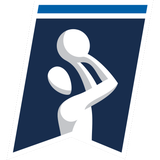 Get more from College Basketball Follow your favorites to get information about games, news and more
---