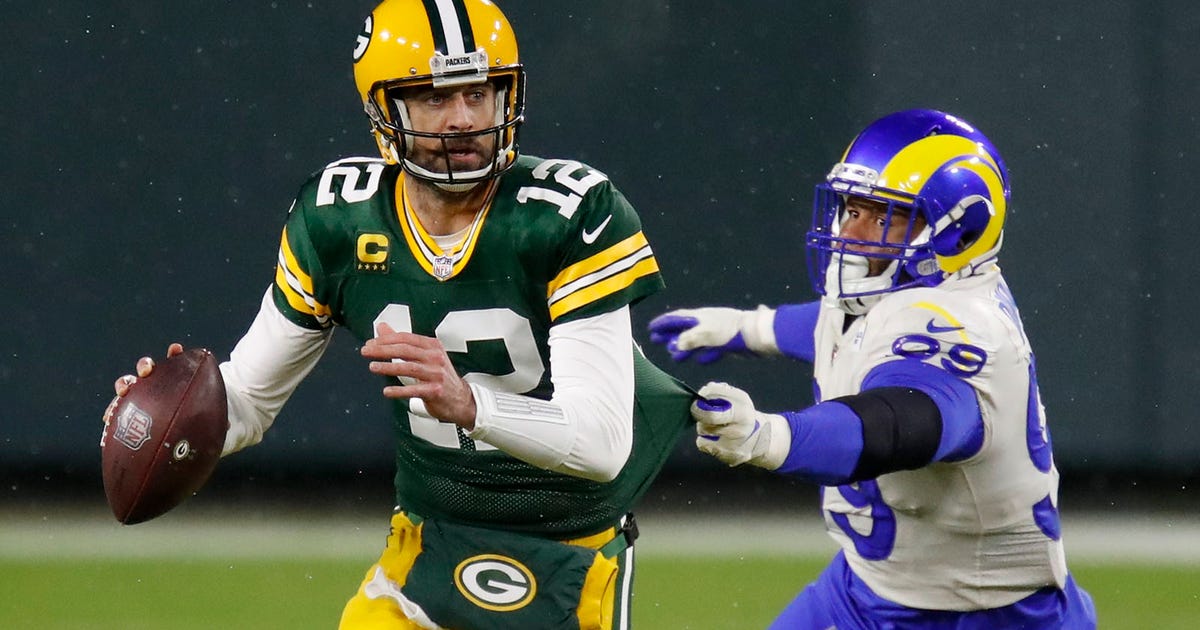 A lot of the pre-game hype between Green Bay and Los Angeles in Saturday's NFC Divisional round playoff game was focused on the Rams' Aaron Donald and the matchup between L.A. corner Jalen Ramsey and wide receiver Davante Adams.
Maybe more words should be been written about the Packers' run game and Aaron Rodgers.
More Packers coverage from FOX Sports Wisconsin
Green Bay treated the Rams defense like they were the Jacksonville Jaguars and not like the top-ranked NFL unit like they were in the regular season.
The Packers scored on their first five possessions – Green Bay didn't punt in the first half – and Rodgers burned the vaunted L.A. defense on a 53-yard touchdown to Allen Lazard off a play fake to cement a 32-18 win in the fourth quarter.
The Rams led the NFC and were second in the NFL in sacks – and had five last week against Seattle's Russell Wilson – and were third in the league allowing just an average of 91.3 rushing yards per game. However, Los Angeles barely got a hand on Rodgers, never sacking him, and a trio of Green Bay running backs gained 191 yards on the ground.
Donald, albeit banged up with a rib injury, finished with just one assisted tackle and a big 15-yard penalty while Adams had nine catches for 66 yards and a touchdown.
So much for narratives. Except for one: The top-seeded Packers held serve, advancing to the NFC championship game which will be held at Lambeau Field.
Game Story | Photo Gallery
Here's a recap of Saturday's playoff game:
PLAYER OF THE GAME
It's probably easy to just name Rodgers here, but we're taking the easy route. He certainly wasn't perfect, missing a few throws, but in the end, he finished 23-of-36 passing for 296 yards with two touchdowns and no interceptions against a defense that led the NFL in passing yards and touchdowns allowed, and which limited opposing quarterbacks to an 80.4 passer rating. He also scored his first rushing touchdown – beautifully deking linebacker Leonard Floyd on a pump fake – his first rush TD in a playoff game since Super Bowl XLV. Rodgers also eclipsed Brett Favre for most playoff passing yards in Packers history.
DON'T FORGET ABOUT ME
He only had three tackles, but defensive Kenny Clark had two of the bigger stops in the game – both sacks. Green Bay opened the third quarter with a touchdown to increase its lead to 25-10. On L.A.'s next drive, Clark and Rashan Gary teamed up to sack Rams QB Jared Goff on third-and-7, forcing a punt and giving the Packers to turn the game into a rout (which they didn't do, of course). Then in the fourth, with the Rams down 25-17 and having the ball with a chance to tie, Clark got to Goff on a second-and-10 for a six-yard loss. Los Angeles, which played dink-and-dunk all day and had only two plays longer than 15 yards all game, had little chance of getting a first down – and it didn't. The Rams punted, the Packers scored and that was that.
THAT MOMENT
After that last Clark sack and ensuing punt, the Packers took over from their own 27. Green Bay ran it twice with rookie A.J. Dillon, but he fumbled on the second carry. The ball fortuitously bounced right to Rodgers, who scooped it up and was able to gain a couple of yards to give the Packers a third-and-makeable-3. Rodgers flipped a pass behind the line of scrimmage to Marquez Valdes-Scantling. A stop by the Rams and they get the ball back with another chance to tie. But Valdes-Scantling took a hit and kept churning, diving beyond the chains to get the first down. Two plays later Rodgers hit Lazard for a long touchdown. Game. Over.
THIS NUMBER
Green Bay wasn't supposed to move the ball up and down the field against the Rams. Los Angeles allowed the fewest yards in the NFL in 2020. Not only had no team gained 400 yards on the Rams but also just six in the 17 games had reached 300. The Packers had 484. That's the most yards gained in the playoffs against a team that led the NFL in yards allowed per game since the AFL-NFL merger.
THEY SAID IT
"Our O-Line really answered the bell, man. That's a really good front, that's a really good scheme. Our guys did it in both the run game and the pass game." — head coach Matt LaFleur
"Nobody. We can only stop ourselves." — Adams, when asked who could stop the Packers offense
"It's hard to really put into words how special that feeling is, but you can feel it. It's so palpable. You can feel the energy in the stadium. It's just different. It's different playing in front of a crowd. It's a little more special and obviously more sweet." — Rodgers, on playing with fans in the stadium
"I was telling all my teammates in there, we got to kick the door in. This is my third one. Guys don't even get to one. This is my third my third NFC championship I'm going to. We got to just lock in, kick the door
down and get over the hump and get in there (to the Super Bowl). … Hopefully this third one is a charm." — Clark
WHAT'S NEXT
Green Bay will play the winner of the Tampa Bay at New Orleans game next Sunday at Lambeau Field, with a kickoff at 2:05 p.m. The victor of that game, of course, advances to the Super Bowl.