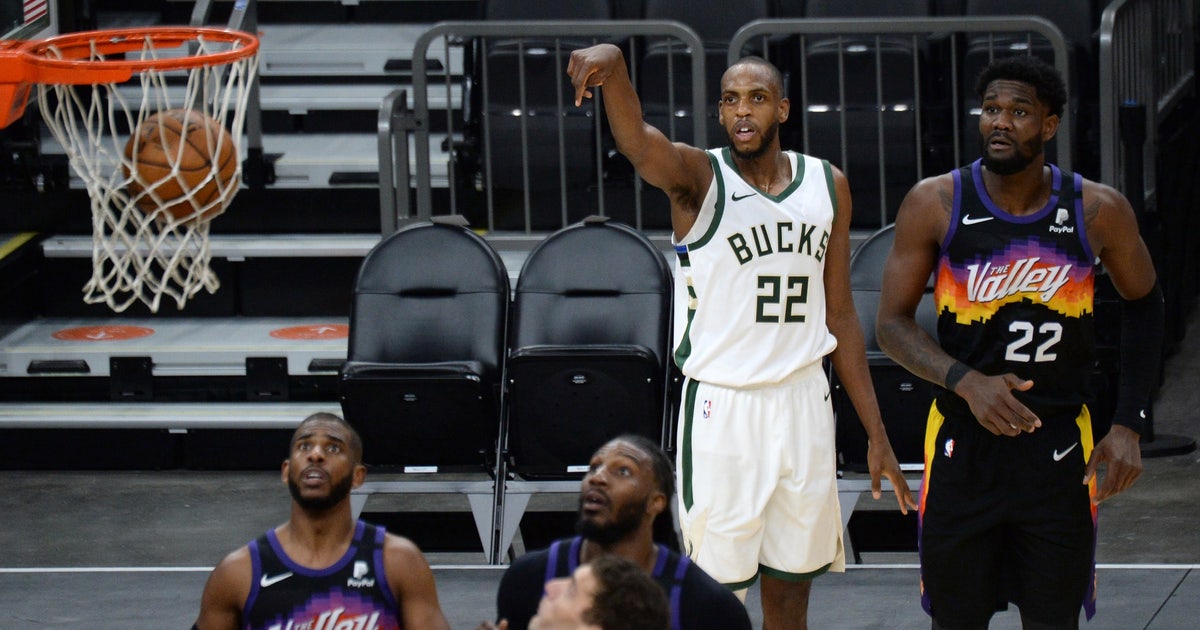 Khris Middleton has been an unsung star in the NBA for basically his entire tenure with the Milwaukee Bucks.
He sprang onto the scene during his fourth NBA season in 2015-16, logging 18.2 points per game while shooting 39.6% from 3-point range. After putting up consistent numbers the next few seasons, Middleton was named an All-Star in 2019 and '20.
This year, although he didn't get an All-Star nod, Middleton is in the middle of arguably his best season. At age 29, Middleton is logging 20.4 points, 6.0 rebounds and a career-best 5.5 assists per game. He's also shooting a career-high 42.9% from downtown — and 50.5% from 3-point range in 22 games at Fiserv Forum.
Since the 2017-18 campaign, Middleton has posted 5,213 points, 1,525 rebounds and 1,154 assists. The five other NBA players to have matched his total of 5,000+ points, 1,500+ rebounds and 1,000+ assists in that span have a combined eight MVP awards: Giannis Antetokounmpo (2), James Harden (1), LeBron James (4), Nikola Jokic (0) and Russell Westbrook (1).
According to Odds Shark, Jokic is currently the favorite to win the 2020-21 MVP honor.
Yep, Middleton is extremely unsung.
Always playing the second fiddle to Antetokounmpo, Middleton has shown he can occasionally carry the load himself. When Antetokounmpo missed Monday's game against Indiana, Middleton poured in 25 points and added eight rebounds and six assists in a 140-113 win.
The Bucks shot 61.5% (24 of 39) from beyond the arc against the Pacers, which was the second-best 3-point percentage among teams with 35+ attempts in NBA history. The record is held by the 2008-09 Orlando Magic, who knocked down 23 of 37 attempts (62.2%) in a game against Sacramento on Jan. 13 of that campaign.
Since 2018-19, the Bucks are 11-11 without Antetokounmpo on the floor, including 2-0 this season.
The Bucks may have to turn to Middleton again Wednesday night, as Antetokounmpo is listed as questionable to suit up for the tilt with Boston.
The game between Milwaukee and the Celtics will air on FOX Sports Wisconsin, beginning with "Bucks Live" at 6 p.m.
Statistics courtesy Sportradar