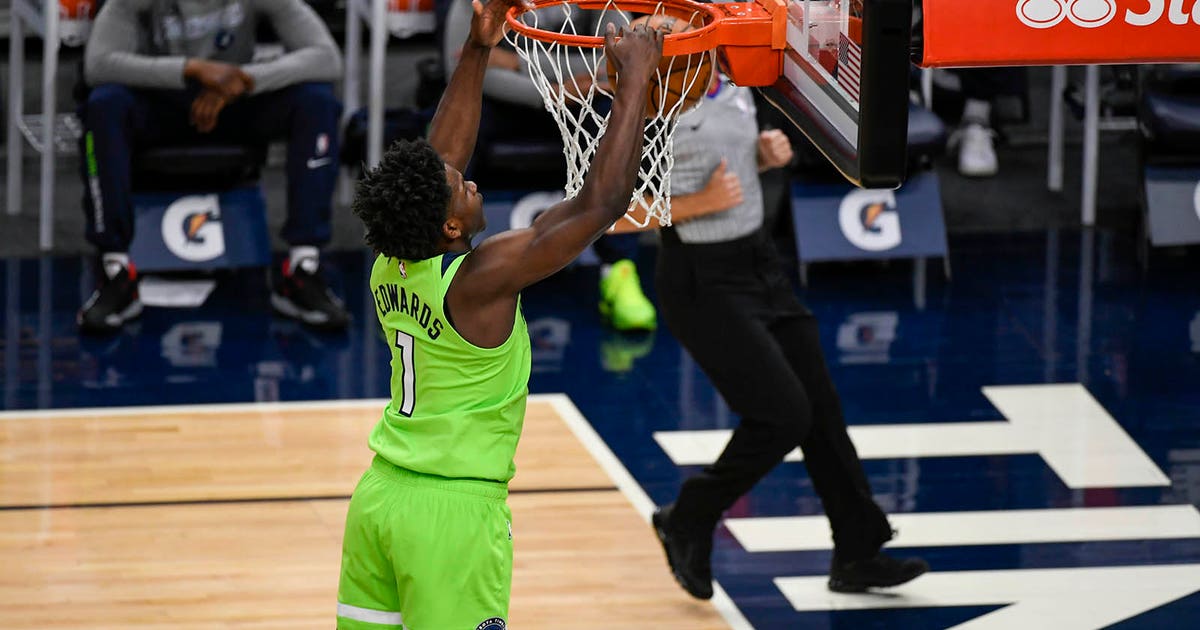 The NBA is getting to see what Minnesota Timberwolves rookie Anthony Edwards, the top pick of the 2020 draft, can do.
Entering Sunday's matchup against Portland, Edwards' single-game career high was 28 points, set Feb. 16 against the Los Angeles Lakers.
He showed up big time vs. the Trail Blazers. Edwards went off for a career-high 34 points in Minnesota's 114-112 victory, an effort which included six makes from beyond the arc.
More Timberwolves coverage
Two days later, Edwards topped his previous career high once again. He nailed a trio of 3-pointers en route to 29 points against LeBron James and the Lakers.
The 63 points poured in by Edwards was the highest two-game scoring effort from a Timberwolves rookie in franchise history. Zach LaVine previously held the record with 61 points scored in April 2015.
At 19 years old, Edwards is one of seven teenagers to rack up 63+ points over a two-game span, joining Carmelo Anthony, Devin Booker, Luka Doncic, LeBron James, Cliff Robinson and Zion Williamson.
Ever since Chris Finch took the coaching reins in Minnesota on Feb. 22, Edwards has been difficult to keep out of the box score. In the nine games Finch has coached, Edwards has logged 22.8 points, 5.7 rebounds while shooting 46.7% from two-point range and 32.9% from downtown.
Those numbers are a large increase from the previous 31 games, which were coached by Ryan Saunders. Edwards registered 14.3 points and 3.6 rebounds per contest while shooting 41.9% from inside the arc and 31.3% beyond it.
Edwards will have a chance to follow up his 34- and 29-point efforts Thursday night when the Timberwolves visit Booker and the Phoenix Suns.
Phoenix has won the last three meetings between the two teams, winning by an average score of 114-102. The Suns own the second-best record in the NBA at 26-12 and have won 18 of their last 22 games since Jan. 28, the best mark in the league over that span.
For Minnesota, Edwards racking up big digits in the points category will obviously be a factor, but so will its bench. The Wolves have relied on their bench for 37.1% of their points this season, which is the second-highest total in the NBA.
And look out for a strong closing effort from Phoenix. The Suns have scored 25+ points in the fourth quarter in 11 straight contests, the league's longest active streak.
The game between Minnesota and Phoenix will be aired on FOX Sports North, with "Wolves Live" beginning at 8:30 p.m.
Statistics courtesy Sportradar