Two-time Rock and Roll Hall of Famer David Crosby has died, a reliable source told ABC News on Thursday. The singer was 81.
Born in Los Angeles in 1941, Crosby launched his career as a member of the Byrds, joining the band in 1964 and appearing on their first five albums. In 1968, along with Stephen Stills of Buffalo Springfield, and Graham Nash of the Hollies, he formed Crosby, Stills & Nash, which released their self-titled debut in 1969, with the group going on to win the Grammy for Best New Artist that year.
The group welcomed Neil Young in 1969 and changed their name to Crosby, Stills, Nash & Young. The quartet debuted in Chicago on August 16, 1969 and performed their second-ever gig together at Woodstock. Their first album as a foursome, 1970's "Déjà Vu," went to No. 1.
In response to the news of his death, former Crosby, Stills & Nash member Stephen Stills told ABC News that he is "deeply saddened" by Crosby's passing.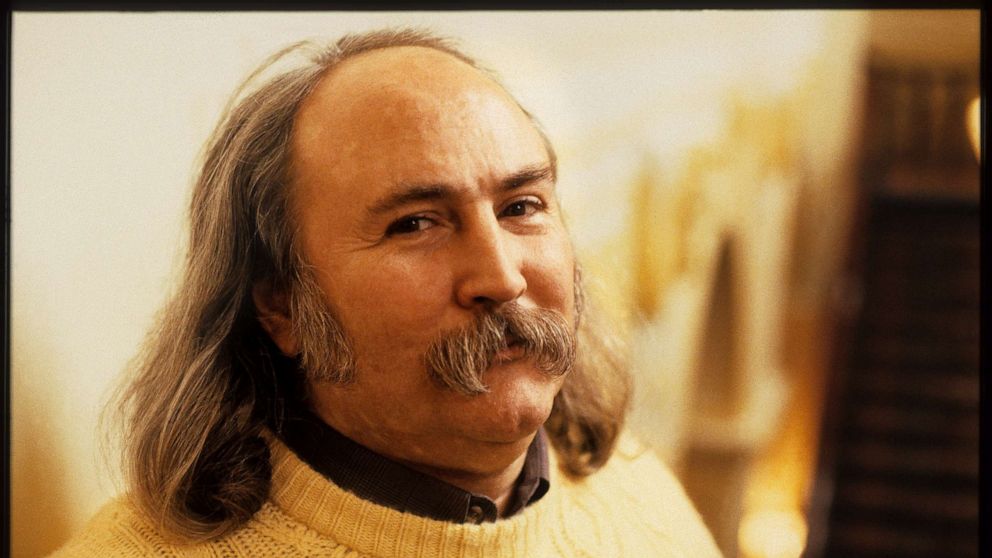 "I read a quote in this morning's paper attributed to compose Gustav Mahler that stopped me for a moment: 'Death has, on placid cat's paws entered the room.' I shoulda known something was up," Stills began.
"David and I butted heads a lot over time, but they were mostly glancing blows, yet still left us numb skulls," Stills continued. "I was happy to be at peace with him. He was without question a giant of a musician, and his harmonic sensibilities were nothing short of genius. The glue that held us together as our vocals soared, like Icarus, towards the sun."
"I am deeply saddened at his passing and shall miss him beyond measure," he said.
In addition, Crosby & Nash also released four albums together, and Crosby had a prolific solo career, releasing his first solo album "If I Could Only Remember My Name" in 1971. In 1996, he also formed the group CPR, a.k.a. Crosby, Pevar & Raymond, with guitarist Jeff Pevar and his son, pianist James Raymond, who he gave up for adoption in 1963. Crosby reunited with Raymond in 1995.
As a songwriter, Crosby wrote or co-wrote such songs as CSN's "Wooden Ships," "Guinnevere," "Longtime Gone," and more, as well as CSNY's "Almost Cut My Hair," "Déjà Vu" and others. He also wrote the Byrds tracks "Lady Friend," "Everybody's Been Burned" and more.
Crosby, a long-time outspoken political activist, is a 10-time Grammy nominee, with one win, and was inducted into the Rock and Roll Hall of Fame in 1991 with the Byrds and in 1997 with CSN. A documentary about his life, "David Crosby: Remember My Name," produced by Cameron Crowe, was released in 2019.
The rocker has had a history of drug use over the years, which has gotten him into several run-ins with the law, including an overturned conviction in Texas for carrying cocaine and a pistol into a club in 1983.
Crosby has been a longtime advocate for cannabis and launched his own cannabis brand, Mighty Croz.
In 2022, he said he suffered from tendonitis that was preventing him from playing guitar.
Crosby is the father of six children. He had Raymond with Celia Crawford Ferguson, daughter Erika, with Jackie Guthrie, daughter Donovan, with former girlfriend Debbie Donovan, and son Django, with wife Jan Dance.
In addition, in 2000, Melissa Etheridge revealed that Crosby was the sperm donor for the two children she had with ex-partner Julie Cypher: son Beckett, who died of an overdose in 2020 and daughter Bailey.
In response to the news of Crosby's death, Etheridge took to Instagram to pay tribute to her friend.
"I am grieving the loss of my friend and Bailey's biological father, David," Etheridge said. "He gave me the gift of family. I will forever be grateful to him, Django and Jan. His music and legacy will inspire many generations to come. A true treasure."